Heat Holders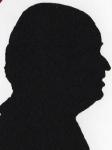 A new name to me so I asked to see a couple of their products to tell you about, first a rather nice extra-large sweater that looks expensive a has a 'plus', second a pair of warm socks that double as a pair of slippers for indoor wear.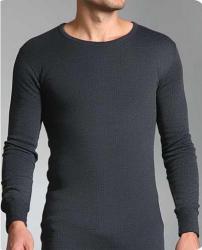 Charcoal Long Sleeve Vest
This is not like any vest I have worn in the last 70 odd years. I would call it a sweater and on the colder string days that is how I have worn it.
Dependant on size I vary between a large and XX-large and so I plumped for the latter, it is a little large as a 'vest' but again if we use the US version of the word it is not underwear but a shirt of sorts.
It had a seamless ribbed construction made basically of cotton with a TOG rating of .45.
As the box says 'Heat Holders thermal construction holds more warm air close to the skin, keeping you warm for longer'.
For me it looks like a quality round neck jumper. I did try it as a UK style vest and it worked but my choice was to wear it as a lightweight jumper.
So what is the 'plus' it's that bit longer so for those who wear it as designed no 'builders bum' when you bend over, as a long jumper it keeps the kidneys and other such organs warm.
So far I have washed it several times and no sign of colour fade or other problems and it still feels nice close to the skin.
The Heat Holders Charcoal Long Sleeve Vest is available in S, M, L, XL and XXL for £11.45
https://heatholders.co.uk/mens-thermal-long-sleeve-vest?___SID=U
The Ultimate Thermal Sock
These look on first glance like a thick pair of short socks. However look as the sole of the sock and there are grips attached in the form of 24 flame logos and the words Heat Holders that should help stop slipping. Of course these are for indoor not outdoor use.
They should be as comfortable as socks and slippers in just the socks. They have a TOG rating of 2.3.
Described as being for UK shoe size '6-11' I take a small 10 (9.5) and they were fine for me but I think anyone towards the smaller end of the size scale would find them a little large.
My socks were a dark blue with the non-slip logos etc. on the base being a slightly brighter blue. I could find no washing instructions, I washed both by hand and also in the washing machine using a tumble dryer as well as the washing line when appropriate.
This is a nice idea providing you keep to only wearing them indoors. The lining of the socks is a different material designed to hold heat in.
The Ultimate Thermal Sock is available in four colour choices from the link below for £6.99
https://heatholders.co.uk/mens-slipper-socks
I see they also do other things like hats and gloves.