Dual Buffalo NAS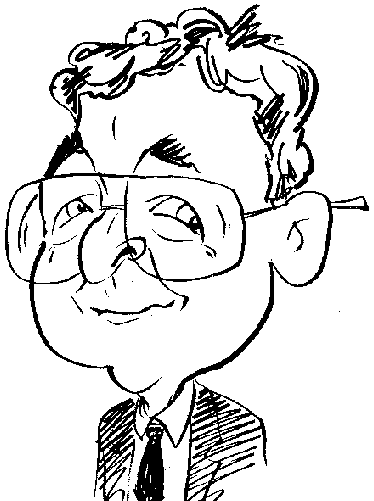 Review controls
One way to increase storage capacity and access functionality is to add a NAS to your computer system.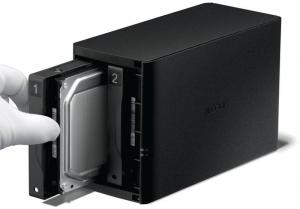 click image to enlarge
Available either as a populated or diskless product, the LS520 is a NAS device which forms part of the Buffalo LinkStation™ series. This review is based on the populated version of this two-bay unit featuring a pair of 1TB drives to provide storage capacity.
Following the pattern that seems to be have been established by competitive products, the LS520 adopts a fairly standard box shape. Predominately matte black in colour, apart from a red strip decorating the top front edge and an LS500 badge on the front, this NAS box certainly could not be called eye-catching. But then that is not its purpose, it is meant to be a network attached storage device and that is what it is with its two hard drives housed within a container with dimensions of 205 x 87 x 126mm. A removable front cover allows you access to the drives in case the need arises at any time to replace either of the SATA drives.
Buffalo has sensible positioned the various connection options and controls at the rear of the box. Connections are available for mains power, Ethernet and USB 3.0 with appropriate leads supplied for the first two options. Keeping the connections company are a power slider switch, red function button and a ventilation circular opening.
When setting up the device you can download various applications including a User Guide in either HDMI or PDF format from a Buffalo website. The required URL is supplied in a Getting Started sheet. You can download and install software for NAS Navigator 2 for managing content and a 5-license copy of NovaBACKUP software.
When you first run the NAS Navigator 2 software, a Wizard will lead you through a set up process for the LS520 device. You can set up a username and password for gaining access to the Buffalo NAS when using a browser. Along with create usernames and associated password for certified users, you can reset the Admin password and make adjustments to various other features including downloading any firmware updates as and when they become available plus select from RAID 0, 1 or Linear format.
While basic access to content can be achieved through a Windows-like interface with folders for personal and public use, there is greater functionality using the password protected browser interface that has its own Home screen view. The Home screen view can either have the default plain white background or you can personalise this look with a choice of colour or image selected by the user. In my case the Home screen displayed options for My LinkStation, My Photos, My Music, My Video, Applications and Recycle Bin.
While the Recycle option works in a similar way to that used by Windows (deleted items are initially stored on a temporary basis), the media folders do have a different method of working in some respects. For example when adding content to one of these folders you need to use an upload feature rather than copy & paste or drag & drop. With Upload you need to select the file(s) you want and these are individually copied to the appropriate folder with an interface showing the progress of the action. The process is somewhat slower than those used by standard Windows conventions.
Content can be stored in nested sub-folders and viewed as thumbnails, detail or listed format. You have the option to adjust the size of icons, grids and text. There is an option to have these settings applied to all folders but this does not appear to work with folders stored in different parts of the program.
A limited number of applications are provided by Buffalo with this NAS product. When logged in as a normal user you have access to applications for viewing images, a media player which tends to restrict its functionality to audio files, change passwords, example server information and view any Windows currently open. Logging in as admin adds Disk Manager, Disk Information and Preferences to the list of applications.
With the LinkStation LS520 you can view your content stored on the NAS either via a standard Windows type interface or that presented by a browser. While the browser offers greater functionality, it is not as fast when it comes to adding content. As mentioned at the start of this review the LinkStation LS520 is available diskless or populated. Amazon.co.uk has the diskless version listed at £128.49 while the populated version, with 2 x 1TB drives, is available for £154.99.
Full details and technical spec for the LinkStation 520 are available on the Buffalo web site.