Brando Weather Station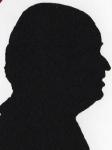 While most will know Brando for 'Everything USB' they do have other items in their portfolio and here is one a Weather Station complete with an external measure and a plus point over lots of others the internal unit can be both wireless and wired.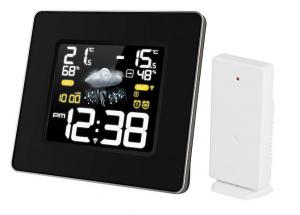 click image to enlarge
This weather station comes with one external sensor as well as the internal unit so you get both internal temperature and humidity readings as well as a four colour weather symbol.
The main unit is 14.5x13.5x1.5cm and weights 213grams with three 'AAA' batteries inserted. The actual display is 10x8cm.
The external unit is 11x5x2cm including its small stand this weights 63grams with two 'AAA' batteries inserted.
The main unit when used only with batteries shows the display brightly for only a few seconds and then reverts to a dim display that in most lights will appear to be off. A push button on the back allows this to be seen easily again when pushed. If you insert the supplied external power adapter then the display can be dimmed or not.
The supplied lead is to USB but a standard 13amp plug front to USB is supplied.
There are a total of six push buttons on the rear marked in English. There is a small instruction sheet telling you how to set the day/date/time on the unit, I managed by trial and error to work this out with just the controls on the back of the unit as the instructions on the sheet were in Chinese. Normally with Brando items they are in both Chinese and English and as this is a new item to their portfolio maybe the translation will be on later units.
There is a small screw in prop supplied but I see that there is a hook on the rear of the unit to allow wall mounting.
So what you see on the display is internal temperature and humidity then a weather symbol which just happened to be a nice sun today and to the right of this the external temperature and humidity. Below this the day and date. Finally in 2.5cm numerals the time which can be either a 12 hour or 24 hour clock.
I have been using this for around six weeks and of course with this being summer there has not been huge differences in temperature apart from a few early mornings when the external one has dipped quite a bit.
While I have in the past tested other weather stations this one is different in the fact that the main unit can be mains powered and even when not the display is still there but you have to look closely in most lighting conditions this of course is done to save batteries as the bright display would otherwise soon drain them if showing 24:7.
Weather Station is available from the link below for $74 (US) and Brando offer free worldwide shipping.
https://watch.brando.com/Remote-Weather-Station-Alarm-Clock-IW006-_p19081c0015d002.html