Bosch Eyes FD 720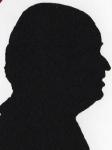 This is an external light and a camera and it runs on a standard power lead so if you already have an external light – with or without a sensor – you can just replace it and this will come on when something is sensed and it also records automatically.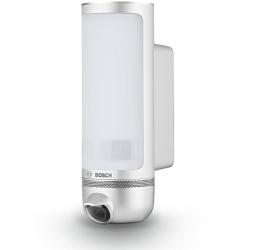 click image to enlarge
This is certainly the most expensive security camera I have reviewed. It is external and has an integrated light so it is a two in one device.
Open the box and there is the light camera unit at 20.5x10.5x6.5cm and a backing plate that fits without overhang on the rear of the unit. There are two screws and raw plugs together with a small Philips screwdriver.
Lift the snug fitting padding to find three 44 page manuals and one of these is in English.
As always RTFM (read the * manual) and then make sure you are certain of where you are going to fit it. If you need to drill holes you will need a drill to do so. Above all be sure you have power going to where you are going to fit it.
The light/camera weights 744grams with back plate attached. So while not heavy you will need a secure fitting.
The light part is 14.5cm from top to bottom, this is LED's. The camera is designed to look down as there is a slight mask at the top end of the camera and it is mounted in a slight downward position.
The camera has internal memory so can store up to 200 events. The unit also has a microphone and speaker so it is possible to have two way communication with the caller if it is say mounted near your front door.
Towards the base of the light is the motion detector that can detect in a 180 degree arc.
Lower down is the camera that has a 120 degree wide angle lens.
Events are sent by Wi-Fi to your SmartPhone using the Bosch Smart Cameras App which can be downloaded from either the iOS or Google Play Store.
Once the camera and the App are connected the App generates a QR code that you need to show to the camera from around half a metre away.
The camera and your phone are then linked and you then hear a beep and then the camera will reboot and go through a sequence clearly laid out in the Instruction Manual and then automatically connect to your Wi-Fi and cloud services.
I found the images clear and sharp – full HD – both day and night and surprised a couple of callers by talking to them remotely, that courier can never say he called when he did not anymore.
Take your time selecting the correct location as you want to try to avoid it looking directly into the sun, and you certainly do not want to drill unnecessary holes in walls.
If you already have an external light then this makes the ideal place to fit it as you already have power running to that point. For some it could be a drawback that you cannot turn off the fact that it has sensed something as the camera shows it is working.
The main drawback is the price at around twice that of even the best quality outdoor cameras but they will often require Ethernet to connect to them so using Wi-Fi saves that step.
Having two way communication could be useful for older people as it avoids them having to get up to answer the door especially if it's a cold caller.
The Bosch Eyes FD 720 is available from Amazon for £ 319.96 with free delivery.
https://www.bosch-smarthome.com/uk/en/products/smart-single-solutions/eyes-outdoor-camera