BenQ 32inch panel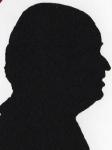 This is a large curved computer panel which can show up to 2160x1440. So if your room can support such a large screen then you will get reasonable sound, great images and once you get used to the curve a more than satisfactory viewing experience.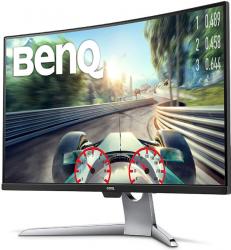 click image to enlarge
This Benq monitor measures 71x42x2cm and it has a 'V' shaped stand 48x24cm which raises the screen by a minimum of 6cm. As the support arm is movable it can raise the unit by up to 12cm.
The viewable screen is 70x40cm which gives the notional diagonal imperial measurement of 31.5 inches. The screen has 15 degrees of back tilt and 5 degrees of forward tilt. There is no side to side movement but with a screen of this size you will not be sitting that close to it. There is 3.5cm of difference between the sides and the centre of the panel. Both the sides and the top nave a minimum edge while the bottom edge is 1.5cm.
While I used HDMI and a mains led to connect to this panel it is possible to use USB 'C' to provide both video input and power.
It is described as a gaming monitor with Hyper Realistic with HDR 400, however for more general use and indeed to stream the odd video or three in HD or more it works very well.
When using such a monitor clarity when colours are very similar is vital or you get a very muddy experience with shades of brown and others marrying into one another.
While you may think the difference between Full HD 1920x1080 and QHD 2160x1440 is not that great seeing an example like the screenshot on the BenQ site tells a far different story.
You have HDMI, DisplayPort, USB 'C' and USB 3.1 connections as well as a headphone jack useful for gamers for those late night sessions.
Radeon have produced something called FreeSync 2 which gives smooth frame display and with 144Hz refresh rate the viewing experience should be top rate.
Of course in normal use things like Low Blue Light and Eye Care are rather important and are both still built in.
While my gaming days are long behind me – if they were ever with me – I can still know a smooth clear display. I used it for a range of office uses and the extra display space given by 2160x1440 mean that large spreadsheet remains clear and in focus even after many hours of use.
For those times when a film is required the clarity is there even in fast moving scenes and as mentioned when a whole gamut of close colours are displayed clarity and sharpness is still there.
Also on the BenQ site you can see three of these linked together to give a panorama view that I am sure would look amazing.
Colour temperature from 1000-8000k is built in so whatever your room lighting this unit adapts.
A very nice and well-built unit at this time I look for problems and the only one I can see is that there is no D-Sub (VGA) connection.
The BenQ EX3203R is available from Amazon for £469 including free delivery.