Alcatel Plus 10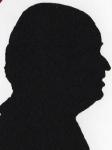 A tablet that comes with a keyboard, when the keyboard is attached then Hotspots become available so while out and about you can get 3G and even 4G coverage. When detached from the keyboard it's a tablet that can take advantage of Wi-Fi wherever you are.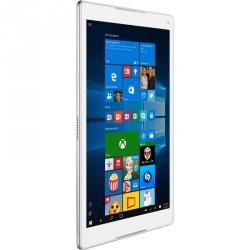 click image to enlarge
The Alcatel Plus 10 measures 26x14.4x1.5cm the tablet itself is 8mm thick and the total weight is 816 grams with the keyboard attached the keyboard being 362 grams of the total weight.
On the left side of the keyboard is a USB port and on the right side a micro USB port as well as a micro SD slot.
The keyboard has 67 keys and on a 1cm strip behind the keyboard are three LEDs and a 3G/4G toggle. Both the left and right side of the keyboard have a 1cm strip clear. The front strip of the keyboard is up to 4cm, the 6x3.2cm trackpad is mounted centrally in that area.
The Tablet fits into the keyboard in a groove at the rear of the keyboard and is held securely at 120 degrees. When shut it is also held in place by rubber grommets on the keyboard but don't wave it upside down as it's not fixed.
The viewable screen is 21.8x13.6cm and the notional diagonal imperial measurement is a tad over 10inches. The screen resolution is 1280x800.
Boot up is 27 seconds and shutdown is 9 seconds, neither are fantastically fast but as most will use this as a mobile device it's probably only me that regularly turns it on and off.
It runs Windows 10 Home; it has 2GB of RAM, a 32 bit operating system and an Quad Core Intel Atom processor running at 1.44GHz, it of course has 10 point touch and is responsive.
The SSD is 27.8GB and just less than 10GB of that is used.
The left side has a 3.5mm socket for headphones, there are micro HDMI and USB ports and a pin hole microphone.
The base has the auto dock contacts for the keyboard, the right side is clear and the top has an on/off button and volume up/down rocker further along is a tricky to open SIM slot.
Either side of the screen are two tiny in width speakers that are 5cm long and the Selfie camera is mounted top left. Exactly behind this is the normal camera.
The screen is clear and easy to read even in outside conditions apart from full on sunlight.
The unit comes with a 'double battery' so a full day's out and about should be possible.
I liked this solid unit although it seems to be exclusive to O2 and as I do not have an O2 SIM I could not test the various claims such as providing a 'Hot Spot' it worked well on my Wi-Fi and apart from the slow boot and shutdown I have no real complaints.
Used as a notebook it was fine and although the keyboard is not huge it is typeable. Used as a Tablet the screen is responsive and you are not aware in normal use that you only have 2GB of RAM.
The link below allows you to have it on contract like a phone for £9.99 upfront and £15 a month. There is also a PAYG option that comes with 1GB of pre-loaded data on a SIM details below.
https://www.o2.co.uk/shop/tablets/alcatel/plus-10/#colour=silver&memory=32gb&contractType=paymonthly