Adam Elements PeAK II Trio 120B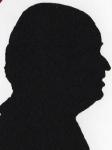 This is a USB cable that has three possible connections at the other end. So if the options given match the connections needed by your devices then on your travels you only need to take this single 'tri' ended cable with you.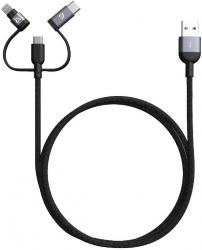 click image to enlarge
If your travels go beyond the UK then you might also need to take the previously reviewed Omnia TA502 which someone who knows a bit of Latin told me means 'everything' or something close to that, read the review to see if it suits you needs.
Everything about this cable is quality from the quality of the braided cord to the metal centres of the ties used to roll up the cable – I needed a pair of pliers to undo the ties – so providing you are not trying to make first use when out and about all should be well.
The cable is 1.2 metres long with the standard USB at one end and Lightning, Micro USB and USB 'C' forming a letter 'E' at the other end.
This is the first multi end cable I have reviewed with USB 'C' on it, there are a lot of lower quality multiple flat cables about but they all tend to have a very short multiple end which make them liable to break as you try to twist them to fit not so as the 'C' shape means there is as much as 10cm available at the 'C' end.
A cable like this from Adam Elements can work well with the previously reviewed Omnia TA502 which is a dice shaped power cube for most parts of the world that also has two USB ports.
This is both a Sync and Charge cable so it should enable most jobs for both charging and file transfer.
The end parts of the cable are Aluminium so both lightweight and strong, the braided cable is nylon fibre and the housing is reinforced to accept the odd knock or three when in the traveller's case.
It is stated to support 3A charging but of course your device has to support this ultra-fast method of transfer which as far as I know most do not yet do but it should transfer as the fastest that your device permits.
I tested both the USB 'C' and Micro USB ends without any problems. I could not test the Lightning as I do not have any suitable Lightning devices but I see no reason why it should not work correctly.
The Adam Elements PeAK Trio 120B is available from the link below for $29.90.