Acer launch nine new offerings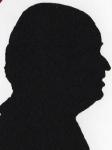 Review controls
A long weekend in Glasgow in late November was not high on my list of places to visit, nothing against Glasgow or Scotland but the week previously it had been -10 degrees in Glasgow so armed with my long johns I ventured north of the border.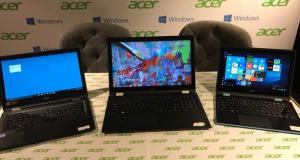 click image to enlarge
Let's get the weather out of the way it was cold but not below freezing, it was dry with no rain or snow, some free time Saturday afternoon saw a visit to a Distillery not far from Glasgow, and while I do not drink alcohol I found the tour interesting and when we were returning to Glasgow after the visit there was the most amazing sunset.
The nine notebooks come from four ranges Swift, Spin Convert, Detachable Switch and Cloud Book Aspire One 11. Dependant on the processor and the amount of RAM and storage size the prices of these will vary but I am able to give some ball part figures.
While I spent some time working with several of the units I also spent a lot of the time both in the review room and my bedroom doing the upgrade that now seems to filtering through from Windows taking most people from Windows 10 v1511 to Windows 10 v1607. This is not a trivial affair of a couple of reboots and more alarmingly it decides when it will happen, unless you turn off the upgrade in settings, this of course Microsoft do not want you to do.
In the week before the Glasgow visit I was working on my own Windows 10 PC when I tray note appeared saying an update was due and would take place at 15.06 I clicked postpone but at 15.06 the PC started it anyway, luckily I had just saved what I was doing.
As this upgrade was unplanned I left it to continue without checking for a while but looked in on it regularly and after 90 minutes I stated to worry, finally the main upgrade was done but that left three other small upgrades and these took more time.
So when during my testing on one of the new Acer machines at the Hotel the tray gave the same message I let it work away and my notes proved very interesting - to me anyway – I should say this was their cheapest offering The Cloud Book Aspire One 11 at less than £200 with a Celeron Processor a small SSD and only 2GB of RAM so the time taken together with the hotel's Wi-Fi may magnify the problems but it worked out at more than six hours from the start of the process to completing the final small update to Windows Defender.
By then the machine was shouting about the lack of free storage space although once the final update was completed it did allow me to remove most of Windows Old – yes although this is an update it's not like normal updates it's a new operating system – but someone in the know says that from next year it will be smaller chunks in future - but that probably means more of them -, this one was called the Anniversary update/upgrade and although Windows 10 first shipped in the Summer of 2015 this update/upgrade seems to be happening at the end of November 2016 somewhat later than the anniversary.
Even though I asked the question of when new Acer units would ship with v1607 pre-installed the Acer representative was unable to give a date when updated units might ship.
The only problem for me - apart from the total time taken - was around 1GB of files in Windows Old that I could not delete, this would not occur with natively shipped versions. So it's now a workable notebook again with a reasonable about of free space on the SSD, I will bring you a full review in the months to come along with reviews of a selection of other items from the new Acer units across their ranges.
The Swift range - odd numbers seem to be the in thing - Swift 3 at around £500, Swift 5 around £680 and Swift 7 at close to £1000. There will be a new arrival called the Swift 1 early next year but I have no pricing on that as yet.
The Spin Covert Range which as you may gather converts from Notebook to Tablet have four models from 1 to 7 with as you may work out 3 and 5 in between, ranging from £250 to £1200.
The £600 Detach Switch 12 Alfa does as it name suggests 'Detach' the keyboard and has a frame that pops out to support it.
Most of these models appear to be available at Amazon, Very and others online and shop based resellers but all seem to have different processors and SSD units so the prices above may well be only a guide.
From what I saw and tried over the weekend this seems to be a range to offer you a whole gamut of choices, so if you should require more – or maybe less - memory, a larger amount of storage or a different processor then the same model might be available through a different source within the same basic case.