A Two-in-One Device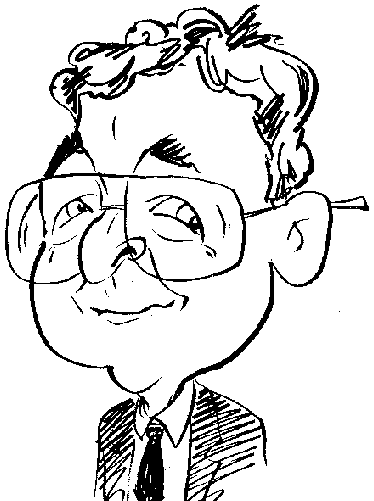 Review controls
It has been a while since I last took a look at an Acer device. This drought was ended with the arrival of the Acer Spin 5.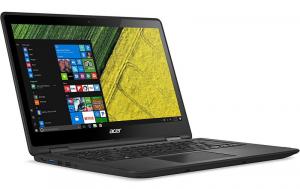 click image to enlarge
Up until recently you might need to decide if your portable computer should be referred to as a laptop or notebook, now you might need to consider if your new device should be classified as a tablet or a laptop. Of course in some circumstances the device might actually fall into both categories. An example of this would be the Acer Spin 5 product which forms the basis of this review.
In its natural state, as a laptop, the Acer Spin 5's black obsidian casing, combining elements of plastic and aluminium, has dimensions of 32.88 x 22.85 x 1.97 cm (W x D x H) with a weight of 1.7 kg. Acer has made use of both sides of the unit to house the various physical connection options built into this two-in-one device. On the left side are options for attaching a set of headphones or external microphone with a 3.5 mm jack plug plus ports for HDMI, a single USB 3.0 port and two USB 2.0 ports. A little disappointingly, Acer has neglected to include the new USB C standard with this product. Running down the right side of the Spin 5 you will find the mains power connection, on/off button plus a volume rocker, Kensington lock socket and a micro SD card slot.
Raising the top cover or lid partway, in laptop mode, reveals a 13.3 inch IPS touch screen. This display is capable of displaying a 1920 x 1080 HD resolution. Integrated into the top bezel, positioned centrally, of this widescreen display, is a webcam delivering a resolution of 1280 x 720 for those video chat sessions and live selfie captures.
Taking over the lower half of the laptop layout is an almost silent keyboard with a UK style layout. The keyboard also has the usual touchpad facility arrangement. The touchpad has multi-gesture capability. While the touchpad is slightly off-centre, there is enough space on either side for use as a wrist rest facility.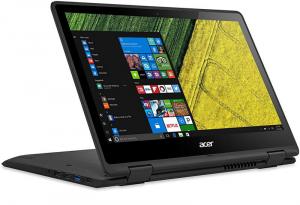 click image to enlarge
When necessary the screen element can be folded back over itself as you switch the device into tablet mode. The screen's touch facility then comes into its own as it becomes the most obvious method of controlling the device. You need to be aware that, while switching to tablet mode will deactivate the touchpad facility; this will not apply if, like me, you have a habit of attaching a traditional mouse to the Spin 5. The screen cursor will still remain under the control of the attached mouse. Detaching the mouse will get round this problem.
Beating at the heart of the Spin 5 is an Intel Core i5 720 OU (7th Gen) chip set with access to 3MB of cache and 8GB of DDR4 RAM. An option is available to switch out the standard RAM and replace it with a single 16GB stick. The unit's graphics is handled by the Intel HD Graphics 620 chipset. Providing the Spin 5's untethered power is a 4-cell Lithium ion battery. Acer is claiming that this battery should be able to provide up to 11 hours of run time. My tests, of running continuous video playback, failed miserably to get even close to this figure. Even reaching five hours of playback was accompanied by a warning message that battery power was down to 7% which certainly interrupted my viewing enjoyment.
In whatever mode you are using the Spin 5, you have access to features that include Wireless 802.11a/b/g/n/ac, Bluetooth 4.1 and Intel's Turbo Boost Technology. For storage Acer has gone with the SSD route. You get an M.2 2280 SSD unit giving 256GB of capacity of which around 200GB should be available to the user once the pre-installed Windows 64-bit Home operating system has taken its fill. The Windows operating system certainly makes switching between laptop and tablet mode as seamless as possible. You can either opt to be asked for permission each time the operation occurs or give Windows permission to carry out the change-over automatically once detected.
I have to admit that I am not a particular fan of the dual technology feature used by the Acer Spin 5. I found holding the Spin 5 in tablet mode to be a not particularly comfortable task. It certainly helped by placing the unit on a firm surface thus leaving both hands free to deal with the 64-bit Windows Home operating system. If I needed to hold the device then I usually place a sheet of card over the keyboard for a more comfortable holding fit. Apart from the rather disappointing battery performance, I was reasonably happy with the Acer Spin 5. Pricing is expected to be around £678.