Acer Predator Helios 300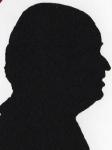 This is part of a range of gaming notebooks from Acer. While I openly admit that I am no gamer other reviews will tell you what this and other units in the Predator range can accomplish in the gaming area I concentrate on its other features.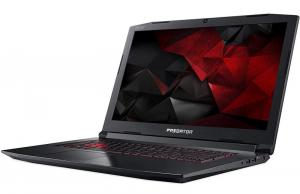 click image to enlarge
The Acer Predator is a 17.3 inch high performance gaming laptop measuring 42x28x2.5cm and weights just short of 3kilos at 2.94kilos.
This is a powerful beast that has the whole rear to dissipate the heat a heady gaming session is likely to create.
The left side has a Kensington lock socket, Ethernet port, USB 'C' port, HDMI out, USB3 port and an SD Card slot. The front is clear with the speakers on the front of base where it is chiselled away to allow the sound to move forward and up. The right side has 3.5mm socket for headphones, two further USB ports, two LED's and the DC input. The rear as stated is one long heat dispersal area, the screen does not cover it coming down to around 145 degrees.
The viewable screen is 42.5x21.5cm which gives the notional diagonal imperial measurement of 17.3inches, the beautifully matt screen displays 1920x1080 in amazing detail and really sharply defined images both still and moving.
The 104 key keyboard has a red backlight. The sides and top area around the keyboard have a 4cm strip clear while there is an 11.5cm area in front clear so not only your wrists but part of your forearms can also. The 10.5x7.5cm trackpad is mounted 11cm from the left and 20.5cm from the right.
It has an Intel 7th Generation i7 processor (7700HQ) running at 2.8GHz, NVidia GeForce GTX1060 over clock able graphics chip, Windows 10 Home, faster Wi-Fi with MIMO and 16GB of DDR4 memory. The 'C' drive is a 128GB SSD and the 'D' drive is a 1TB hard drive.
Boot was a rather nice 10 seconds and shutdown from desktop 2 seconds. A full charge from empty takes just over two hours and when streaming full screen video the battery gives up after 4 hours and 30 minutes.
Because this is a notebook with battery I give the figures above but most gamers I know use their machines on mains power with large external speakers although the speakers provided give a good sound and plenty of it.
All the normal apps and programs I ran were lightning fast as you would expect but then you are paying a substantial premium for the privilege.
For me as a 'normal' user the quality of sound and the excellent matt screen are the stars, role on the day when a standard notebook has such refinements.
The Acer Predator 17.3" laptop is available from Amazon for £1,399 including free delivery.
An alternative machine with the same core specification but with a smaller 15.6 inch screen and NVIDIA 1050Ti graphics at £1099.99 also with free delivery.
Currently it does not seem to be available in the Acer Store.