Acer Aspire R3-131T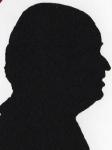 This is a Notebook and a Tablet; the 11.6inch screen can show 1366x768. As it's a Tablet as well as a Notebook it of course has touch and then Windows 10 starts to make sense, not for Cortana but for the on screen annotation ability.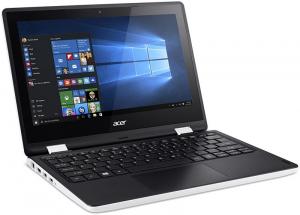 click image to enlarge
The Acer Aspire R3-131T measures 29.5x21x2.1cm the last figure at the back and it is only 1.5cm at the front, it weighs 1509grams.
Going around the outside, on the left is an Ethernet port, HDMI, USB3, USB2 and finally a headset port. The front and back are clear, the base has reversing speakers, this leaves the right side that has volume rocker, two pin hole LEDs, on/off button and DC input.
The viewable screen is 26x14.5cm which gives the notional imperial diagonal measurement of 11.6inches.
A couple of those need explanation the Ethernet port manages to connect by bulging slightly onto the base and the speakers reverse according to how the unit is used.
My unit was white everywhere on the outside and matt black on the inside apart from the screen that is shiny black but does not show finger marks as much as most units do.
It has an 84 key keyboard with the alpha and numeric keys being full size. There is a 2.5cm strip behind the keyboard and both sides have 1.5cm clearance beyond the keyboard. In front of the keyboard is a 7/5cm wrist area with the 10.5x6cm trackpad being mounted 8.5cm from the left and 10.5cm from the right.
At times things happened a little slowly probably because of the Celeron Processor but I was always told patience is a virtue. Normal boot up is around 30 seconds and shut down around 7 seconds. It has 4GB RAM.
The 500GB hard disc (465GB) and when it ships only 27GB of that is used.
A full charge from totally exhausted was 150 minutes.
It comes with Windows 10 Home 64bit, a range of Acer Apps and a limited time trial of McAfee LifeSafe and Microsoft Office 365. Once you register you will be able to access other Acer items like AB Docs a perfectly usable word processor.
While I expected Microsoft Edge to be there I was a little surprised to see that Mozilla Firefox was also pre-installed, the unit was new when it came from Acer so it was not something installed by another journalist.
When you start up for the first time do attach the mains lead as the battery will have little or no power in it, you are warned that first installation will take up to 30 minutes in fact it took 24 minutes for me.
A sticker on the top and left side around the screen mentions four modes, Notebook, Display, Tent and Pad.
The screen pushes back through 360 degrees to become a Tablet and after a couple of seconds you are asked if you want to use it in Tablet mode. Likewise when you turn it back you are asked about use in Notebook mode.
The Corning Gorilla glass is the same as on a lot of phones so should survive the odd knock.
My one gripe is the lack of immediacy once you click or touch an icon you get the chance think it has not worked before things start to occur. However for a notebook/tablet it's a good price.
The Acer Aspire R3-131T is available from Amazon for £189.99.