AOC 32 Inch Curved Screen Panel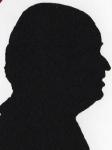 Big it is, and the curve means that the centre is 3cm further in than the outside and unless you are viewing from a good distance away it is certainly noticeable. However while sound is often low on this list of priorities here there are fantastic up facing speakers mounted in the rear.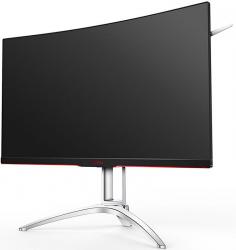 click image to enlarge
Most speakers in panels are at best 'average' here they are superb as the extra depth is used to have great up pointing speakers in the back. While – for me anyway – the red line of LEDs under the base of the screen and the two pairs of red LED lines of lights on the back do little they may suit some.
You would never buy this panel for word processing or spreadsheets this is a gaming or video watching panel. You need to be at least one metre away and even further is even better.
Not being a gamer posed a problem but a weekend of snooker via the excellent TVPlayer Plus gave me plenty of chance to check things like perspective viewing end on to the snooker table the perspective is fine, the occasional side on view definitely makes the table appear to have a dip near the middle pockets.
The colour is excellent and it would be easy to spend far too long watching.
It is 71x43x3.5cm with the central part being 3cm further in, initially this seems huge but it soon seems almost normal and I can see people using it for console type games and loving it.
The notional corner to corner imperial measurement is 31.5inches and this gives 28inches from side to side and close to 16inches top to bottom.
The top edge and the sides have virtually no border while the area below the screen is under 2.5cm. There is a single nipple type joystick control mounted in the centre of the area under the screen below the AOC logo which is highlighted by a blue LED when the unit has power, pressing this brings up a full range of screen controls which are controlled by movements and pushes.
The 'Y' shaped stand lifts the screen by at least 12cm from your desk and it can be as much as 22cm. There is a good amount of rear tilt and a few degrees of forward tilt, there is no side to side movement.
Behind the stand in a line are two HDMI, two Display Port, VGA, audio in (for VGA), microphone and micro USB before you get to DC input. On the right hand slant still under the overhang are USB3 input, USB3 output and USB3.1 output as well as headphones and microphone sockets.
Whilst VGA and HDMI will give the normal 1920x1080 resolution for most, the Display Port connections will give you QHD which is 2560x1440.
This has a 144 Hz processor and as stated colour gamut is excellent.
This is never going to be cheap but for those into gaming could be just the thing especially with the extra resolution given by Display Port.
The AOC AG322QCX is available from Amazon for £459.99 with free delivery.