ALDI Suitcase LP Player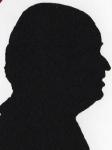 The title on the box says Vintage Suitcase Turntable. Which to me anyway makes the suitcase sound vintage, in fact nor is the turntable although until a few years ago when vinyl came back into fashion it would definitely be retro.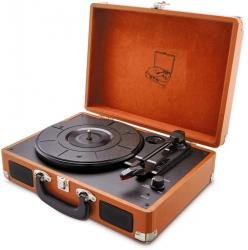 click image to enlarge
This is one of Aldi's bargain buys that are always on sale until they sell out which could be a week or even much less, often their online stock sells out prior to the on sale day in their stores, so if you want one don't think about it for too long.
The suitcase itself is brown and covered with a leather effect wipe clean plastic. There are eight brass effect corners and a black leather effect solid handle also with brass effect connectors and between these a brass effect clip to keep it closed when on your travels.
The case is 35x26.5x11cm and it weighs 2.517kilos. The front either side of the handle has two 6.5x3.7cm speaker grills. The base has four 2.4cm round rubber feet to stop scratching whatever you place it on.
This leaves the rear which has two 4x3cm hinges and in the centre near the base the three connections in a line power in, and a pair of line out sockets.
The case opens to vertical which is just enough for you to place a 12inch LP on the 21cm sprung record deck. To the right of this towards the back is the spindle for those 45's with their middle punched out.
The manual pick up arm is next and beside this the speed selector control (it not only plays 33 and 45 but also 78's). In front of this the single on/off and volume control and finally a 3.5mm Auxiliary input.
There is a 20 page A5 User Guide with well laid out instructions. Also provided a USB mains adapter plug a power lead to connect to this, a phono to 3.5mm cable, an Auxiliary cable and finally a CD-ROM with Audacity software to enable you to transfer your vinyl to your PC or notebook.
I have quite a large collection of vinyl and while I still have a unit capable of playing LP's it gets covered with items so it is normally easier to play a CD.
This however is very small and gives quite a decent sound through the internal speakers.
I have one gripe and that is the lead provided to connect the USB power plug to the unit is only 75cm long which is somewhat limiting to where you place the unit.
The lead itself is the sort you get with a printer and the square end goes into the back of the record deck. I had a longer one from a long gone printer which worked fine and gave me a better choice of placement. You can of course power it from a USB port on your PC/Notebook which if you are using the Audacity software to transfer files from your records to .wav or .mp3 on your computer is useful.
I liked this unit and for £29.99 it is not a huge outlay to salvage those long unplayed LP's and 45's, I no longer have any 78's so I could not test this feature but I see no reason it would not work just the same way.
If you also wish they also have a limited range of vinyl also available but that seems to be online only.
It will be available in their stores from THURSDAY 24th November 2016 but it can be pre ordered on their site now, link below.
https://www.aldi.co.uk/vintage-suitcase-turntable/p/072413067762400
.