Small Bluetooth Speakers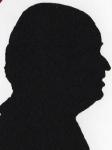 Bluetooth speakers both from iLuv. The first a near cube called the MobiOne. The second looking more like a standard speaker the MobiTour. The lady who sent them must have a wicked sense of humour as they were suggested for Fathers Day one was lipstick red and the other pink.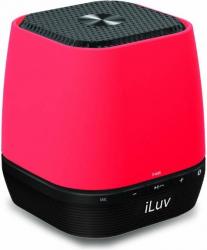 click image to enlarge
MobiOne
It is 8x7x7cm and thickest just above the rubberised base. While the speaker itself outputs through the top the base is always a tad tacky and so grips whatever you sit it on. While it is not resonating the tone does vary according to what surface you place it on.
The on/off slider is on the base while the area just above it has the two external connections micro USB for charging on the back and 3.5mm Auxiliary input on the right side. A line of five buttons take the width of the front. These are microphone, volume -, pair, volume + and Bluetooth.
There is a small twelve page Quick Start Guide to take you through pairing and wired connection via 3.5mm lead, it has numerous illustrations so even should you not understand English you would probably be able to get up and running.
Apart from the speaker you also get a micro USB to USB cable to charge the units internal battery.
Sound quality for such a small unit was quite good. I paired to several devices with Bluetooth without problem, I also connected to these and other music players via 3.5mm lead (not supplied) and the sound quality was similar.
As always with Bluetooth the range is stated to be 10 metres and while this may be the case in a field it is always less in a building but you should be able to move around a room and even one next to it with your device in your pocket without disrupting the output to the speaker.
For most fathers I am sure they would prefer the black one, and others the white one, maybe young girls would like the pink one I was sent.
The iLuv MobiOne is available from the link below for £29.50 with free delivery.
http://www.amazon.co.uk/gp/product/B00A66X7E4?ie=UTF8&tag=gadge0a-21&linkCode=as2&camp=1634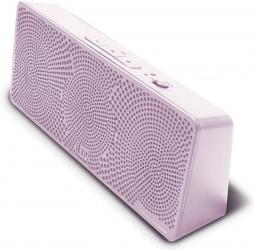 click image to enlarge
MobiTour
As the name suggests this is more likely to be used out and about. This is available in purple, black or as I was sent pink.
It is 17x6x3.5cm the latter is the figure at the base it is a centimetre less at the top. Sadly I did not venture further than my back garden – yes I am a wimp – but pink and me do not mix in public – or private – in this colour you will need to be female or enjoy a good fight.
It sits well on the base and feels quite stable. There are two thin rubber strips running front to back to grip whatever surface.
There are three speaker grills on the face two circular 3cm offerings at either end and a larger 5cm one in the centre area.
The sides and base are clear of any connections. The back has connectors for a 3.5mm jack and micro USB, the latter in a supplied 50cm lead goes to standard USB to charge the units internal battery.
This leaves the top where there are three touch buttons volume -, next track and volume +. To the right of these an LED that is red when power is on and flashes blue and red when pairing. Finally the on/off slider.
Like the unit above I connected to various Bluetooth devices without problem and also via 3.5mm lead – not supplied – and in both cases the sound quality was better than through most earbuds and of course it offers more volume and gives others a chance to enjoy sounds from small devices whose internal speakers are not great.
There is a Quick Start Guide with eight pages of illustrations and some text but even a non English speaking person will get the gist and so should be able to set it up without problem.
If I owned one it would have to be black as even the purple one is not to my liking colour wise.
The MobiTour is available for £23.42 with free delivery from the link below.
http://www.amazon.co.uk/gp/product/B009WU1QB6?ie=UTF8&tag=gadge0a-21&linkCode=as2&camp=1634
The complete range of iLuv speaker offerings are available on the link below.
http://www.iluv.com/product_list.asp?page=1&code2=C020201,C020202,C020203,C020204,C020205#?page=1&code2=C020201,C020202,C020203,C020204,C020205