US Robotics Max g 9108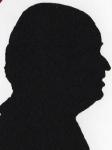 With the home rapidly having more and more PC's then having wireless connectivity makes sense if only to avoid the hazards of trailing wires that are lethal to all ages.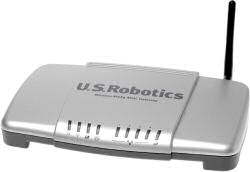 This is an ADSL Modem, Wireless Access Point, 4-Port Router, Print Server, Firewall all in one and should your notebook not have wireless then US Robotics also do a Max g USB adapter. Having everything from one company does mean that working together should be no problem and of course with these more advanced standards that may not exactly be standardised getting the maximum throughput is only probably a dream unless conditions are right and having equipment from the same source certainly helps.
I am not even going to delve into the possible 'n' standard as currently the basic rules for this cannot be agreed so Max g is likely to be the fastest and the best for some time to come.
Opening the box produces a modem/router that looks very much the same as many others with one exception the rear has a USB port for it to act as a print server. This grey box is 23x15x2.5cm. The front edge has a total of nine LED's that look much the same as most other units with the exception of the print server one far right. All the connections are on the rear stating with the external aerial. Next the ADSL connection, now the USB, then the four wired connectors then the reset switch, the 9 volt power brick input and finally something not all units have an on/off switch. This unit is designed to be used flat (horizontal) with some devices designed to be used vertical this may be important to you.
The box also contains a single Ethernet cable and a user manual - the first seventeen pages are in English - that would probably just about be enough to get the novice up and running. However I suspect that anyone who has used a router or modem/router before would hardly need to look at it.
Setup is via a web page or wizard and everything these days is thankfully almost automatic with the most arduous tasks for the user is remembering their ISP username and password. The next part that to my mind should be mandatory but sadly is not is to change the name and password on the router.
Your PC's and notebooks are hidden behind a firewall on the router why made it easy for the nasty people out there by leaving the settings as default. The manual really should emphasize that changing the default settings are essential for your security.
Should you also opt to purchase the USB adapter, this looks like a highlighter and once the cap has been removed it reveals a USB plug on a bendable joint that can be turned 90 degrees with the total length of 11cm this can be reduced to 8cm with the 90 degree twist. The width is 2.5cm and it is 1cm thick. This item also has an installation CD and a manual - the first 15 pages in English - but mainly I suspect for people installing the USB adapter with another modem/router.
In practice I found it worked well and I could be seen walking down the road a way by my neighbours trying to find how far I could keep the signal, certainly a lot further than a lot of other units I have used.
Doing my searches found this at a best price of £69.09 including post and packing at the link below, at anything close to this price for such a high specification unit is a bargain, remember this unit has a built in print server.
http://www.savastore.com/productinfo/product.aspx?catalog_name=Savastore&product_id=10288784&pid=45&tid=2
http://www.usr-emea.com/products/p-broadband-product.asp?prod=bb-9108&loc=unkg