Doro PhoneEasy 612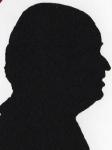 Review controls
Doro have long focused on phones for people with hearing and or sight disabilities. These days most want more than just to make calls; recently they have produced a GSM phone and here a unit that also has a camera.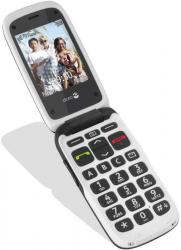 click image to enlarge
The clamshell design of the phone means its small in the pocket or bag. It is 9.5x5x2cm when closed, double the first figure when flipped open. The outside of the unit is black and the face is white with the individual push points are black with white numerals 1.2x.7cm.
The initial setup allows you to change language, time, date, ring tone, volume, text size and theme. All can be changed later individually should you wish or even rerun the setup from the Settings menu all one finger operations.
There are twenty three buttons even the smaller buttons are still a good size with the numeric keys 1.2x8cm each.
The themes are worth a second mention as those with poor sight will attest that yellow on blue is perhaps the easiest to see and this is one of the four options offered the others are yellow on black, white on black and black on white. Being able to alter text size from normal which itself is larger than most to large is also very helpful.
Having mentioned the help for those with limited vision the other thing Doro are good at is helping those with reduced hearing. The obvious thing is loud ring tones and being able to crank up the receiving volume to be able to here people talking to you. Both these features are catered for far better than with any mainstream unit.
The 5x3.7cm screen is bright –whichever of the four themes you choose- and even the icons on the top line of eight are a good size so you immediate note your battery state and signal strength etc. The date and time are also displayed clearly above the bottom line that shows by default Menu and Name above the two soft buttons.
The unit's camera has the centre button so you have quick access to take an image when required. It also has a small icon showing any digital zoom being used from 1x to 4x is .1 increments. It is only 2MP but enough for basic images.
Another feature useful for those with limited sight or less dexterous hand control is the easy charge dock which allows you to just drop the unit in to receive charge no fiddling with small cables that only fit in one way.
I used this as my phone for a couple of weeks while out and about. It can work with any standard SIM and of course works fine on PAYG, no contracts to bother about. As with all Doro phones they support ICE (in case of emergency) and all also have a button on the back that goes through several numbers until it gets an answer which can still allow a less able person to live an otherwise independent existence. The initial programming of this feature can be down by a friend, neighbour or relative and can be a call or even a text message.
A clear 70 page manual allows any of the less familiar features to be easily covered to allow the phone to be used to the full.
A big plus for those less nimble is to able to answer or end a call simple by opening the unit – no buttons need to be pressed – often it is hard for some to remember which button to press to answer or to end a call when all you need to do is just shut the clamshell its simple.
Doing my searches found the Doro PhoneEasy for £120.29 with free delivery from the first link below.
http://www.amazon.co.uk/gp/product/B0083T5M6M?ie=UTF8&tag=gadge0a-21&linkCode=as2&camp=1634
http://www.doro.co.uk/Products/Mobile-phones-and-accessories/Doro-PhoneEasy-612/