Doro PhoneEasy 614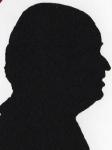 The Doro PhoneEasy 614 is the first 3G phone from Doro. While it may seem rather late in the 3G lifespan it does mean a Doro phone user can benefit from what Doro is good at, loud ring tones, bright and large displays and now the things other phones have.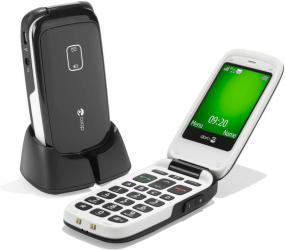 click image to enlarge
While an FM Radio is included a camera is not so while you can email and send and receive messages not photos. Booting time is only 12 seconds and shutdown less than 3 seconds.
It is 10x5x2cm when it is closed; flip it open the first figure becomes 18.5cm. The weight of the unit is 116grams.
Doro do everything to help those with sight or hearing problems and so things like colour options are those best suited to sight problems and sound options to enable those with problems to be able to conduct calls normally.
The maximum time before the display sleeps – with no key pressed is a little mean at only one minute, while this may help conserve battery being elderly myself I often wished it was a bit longer especially if something distracts. The default setting is even worse at 30 seconds which is not enough. Pressing the red end key gets the screen back.
Doro were I think the first to include a 'help' button on the back of the phone and once pressed this goes into a routine to contact named people it carries on till it gets a response. This can be vital for people who are living alone.
Remove the back to insert not only a SIM card behind the removable battery but also a micro SD card to allow you to increase the somewhat spartan internal memory of 49MB but as you have no camera it may be enough.
Open the clamshell reveals a total of 23 keys all but two are white on black and with the white background surrounding the keys these are easy to read. The numeric keys are 1.2x.7cm which are all slightly recessed to mean a push will go where it is meant to even if it starts less than 100% centred on the key intended to be pressed.
Above the normal four rows of keys are four buttons A, B, C and D which can be programmed for one touch connection for regular contacts. Above this line are the green on black call key and red on black end key with the up and down keys in between which allow you to move through menus. Finally at the top just below the hinge are two soft keys and the envelope key. These are somewhat smaller but as Doro still consider the phone as the main tool this is acceptable.
The 5x4cm display screen has a line of icons along the top showing signal strength, the band, any messages, vibrate, melody or both and finally battery state. These are in white with black edging on whatever screen background you have chosen.
A lot of tests done state that the best colours for people losing their sight is yellow on green and this is one of the options, I used it in a range of lights and found it very readable. The rest of the display date and time with Menu and Name being the softkey options are clear and easy to read.
Having the volume set to maximum and vibrate on means that no text or call should be missed if on your desk or in a pocket. If the sound does not get you the vibration will, both together are a very impressive combination.
Just over 11 hours of talktime does not seem that generous but for short calls it lasts a long time and the over 500 hours of standby means that most will only really need to charge it once a week. However on this model Doro provide a docking station as standard so no leads to connect just pop it in the dock and it will be charged. One minor niggle an FM radio is provided but the earbuds are fairly basic and as they have a 2.5mm jack most other headsets will not fit.
Doing my searches found the Doro PhoneEasy 614 at £122.83 including delivery.
http://www.amazon.co.uk/gp/product/B008JVRUFU?ie=UTF8&tag=gadge0a-21&linkCode=as2&camp=1634
http://www.doro.co.uk/Products/Mobile-phones-and-accessories/Doro-PhoneEasy-614/