Griffin Power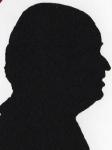 Review controls
Here two items from Griffin to enable you to power iPods. The first PowerDock 2 allows you to charge two iPods simultaneously. The second allows you to power an iPod from either in the car or by inserting an 'AA' battery to give you a Power Boost when out and about.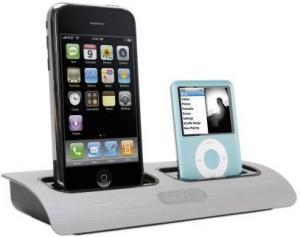 click image to enlarge
PowerDock 2
I am told they also do a PowerDock 4 but I find it hard to imagine anyone having four iPods, still in a large family it could be possible. It is 18x7.5x3cm, brushed metal top with black inserts and sides and grey rubber base.
The back has the input for the power lead. This lead comes with one of those multi plug devices that has different plug ends to clip on for Europe, the USA/Japan, Australia/New Zealand and of course the UK. The lead is 1.4metres.
I suspect that the provided eight different dock inserts will be suitable for most different iPods. Looking at the six language instruction sheet it mentions. iPhone 3G #15, iPhone #12, iPod touch #14, iPod nano (3rd generation) #13, iPod classic 80GB #9, iPod classic 160GB #10, iPod with video (5th generation) 30GB #9 and iPod with video (5th generation) 80GB #10. If you have an other model I suggest you check with Griffin to find out if it suits your unit. http://www.griffintechnology.com/support There is also a sticker on the box adding iPod nano (4th generation) and iPod touch (2nd generation).
It looks smart with it's brushed aluminium coating and being that bit bigger than a normal unit might mean it could hold it's place on the sideboard or kitchen dresser so when you come in just insert your device and then pick it up again when you go out.
Doing my Internet searches found the Griffin PowerDock 2 at a best price of £24.98 from the first link below. Should you need the PowerDock 4 I see the same company have it for only £6 extra (2nd link).
http://www.amazon.co.uk/gp/product/B001HZ8JXC?ie=UTF8&tag=gadge0a-21&linkCode=as2&camp=1634
http://www.amazon.co.uk/gp/product/B001J2YWPC?ie=UTF8&tag=gadge0a-21&linkCode=as2&camp=1634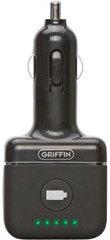 http://www.griffintechnology.com/products/powerdock
PowerJolt Reserve
This device is designed to allow you to charge and USB device from a car cigar lighter socket. It is 10x5.5x3cm. Up to the first 6cm disappears into the cigar lighter socket leaving the oblong item exposed and a USB socket.
As this stands a useful device but it becomes so much more so with its extra ability the top part 3.5x4x1.5 detaches and becomes an emergency battery for almost any iPod device as it detaches and plugs straight into the base of the iPod giving a dead device extra power. When you return to the car the PowerJolt battery just goes back with a resounding click (its magnetized) and it is recharged from the unit and indeed should you have a lead at the same time as your iPod so while you continue your journey both the USB socket and the emergency iPod battery are recharged.
I deliberately let my iPod run out of power and set out with a dead iPod and the emergency battery and happily used my iPod for the whole time using it with the emergency battery plugged in. This is a great gadget. A fully charged reserve battery should give up to 24 hours playing music and up to 6 hours playing videos the examples given are for a 4th generation iPod nano, other models will of course vary.
Doing my Internet searches found the Griffin PowerJolt Reserve at a best price of £17.34 including free delivery from the first link below.
http://mojogear.com/Griffin-9785PJLTRSV-PowerJolt-Reserve-for-iPhone/M/B001UGRC2C.htm