Transcend's Drive Pro 220 dashcam

In view of the spate of deliberate car collisions perpetrated by insurance fraudsters upon unlucky and unsuspecting motorists a forward facing video recorder in one's car is a very useful defensive tool. As well as meeting this need, the Transcend Drive Pro 220 car video recorder (aka dashcam) also incorporates a number of other useful features.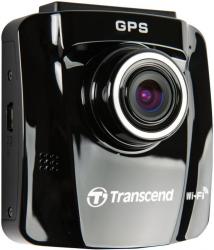 click image to enlarge
The Drive Pro is a relatively inconspicuous unit roughly 70mm tall by 63mm wide and 35mm deep and is powered from the car's lighter socket. It is black in colour and is supplied with a swivel-able windscreen mount (either adhesive or suction) so that it can be fixed on the inside of the windscreen in such a position that the 2.4 inch LCD screen can be readily seen and yet not obstructing the driver's view. (This would normally be a fraction below the central rear view mirror.) It is then adjusted so that its lens provides a good view of the road ahead. Once the unit is mounted the supplied power cable can be run around the windscreen and then plugged into the cigar lighter socket.
As well as displaying the view ahead seen by the 130 degree f1.8 wide angle lens, the screen also shows date and time while the file also provides information, derived from its inbuilt GPS, relating to location. However, while many dashcams are purely defensive items that only come into their own in the event of an accident (deliberate or otherwise) the Drive Pro aims to prevent accidents as it incorporates Lane Departure Warning System (LDWS) Forward and Collision Warning System (FCWS).
LDWS monitors the lane markings and, in the event of the vehicle drifting out of its lane (even if this is due to the driver deliberately changing lane), provides an audible warning as well as showing red lines on the LCD screen. Similarly, FCWS provides visual and audible warning when there appears to be forward collision risk. (These two technologies are becoming a requirement in heavy goods vehicles and could well become mandatory in private cars in due course.)
The Drive Pro is supplied with a 16GB microSD card which will store over 1 hour's video at 1080P 30fps high resolution or 2 hours at 720P. The choice of resolution is one of the menu options. Although it can be changed, by default, video files have 3 minute duration. There are also a wide range of other settings such as WiFi on/off; speed alarm which alerts the driver when the preset speed is exceeded; and voice recording whereby the inbuilt microphone can be turned on or off. Once the car's ignition is turned on the camera will start recording.
Files can be normal or emergency. The system can store up to 15 emergency files which have to be deliberately deleted while oldest normal files are regularly deleted to make way for the latest. Emergency recording occurs when the user presses the Emergency button on the Drive Pro or the G-sensor has detected a collision. Once the 15 has been reached, a further emergency file will result in the oldest being deleted.
In the event of a problem it will have been recorded -- with comments if you had the mike switched on -- and can then be examined carefully. Although one can use a USB cable to transfer files to one's computer, I found it easier to remove the microSD card, insert it into a USB card reader for copying.
Although there are so many dashcams on the market that one is spoilt for choice. Nevertheless, the Drive Pro 220 merits serious attention as it is sufficiently versatile and effective so that it should meet virtually everyone's needs and, priced at about £120 on Amazon, it is a useful motoring accessory and could form a practical form of defence should trouble arise.