Lightweight Storage and Transfer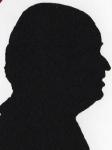 First an OTG device designed for the newest type C USB 3.1 ports. Second a more conventional micro SD card but for 'i' devices to once again facilitate transfer of data between the PC or MAC to the portable device and back again.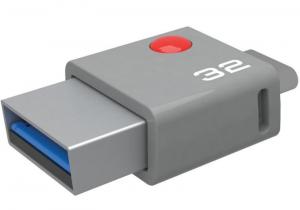 click image to enlarge
OTG Type C
OTG (On The Go) devices have been around for quite a while and for the devices that support them they make an easy way to transfer larger files quickly. Here is the first USB Type C OTG I have seen, type C means it fits either way round.
In itself a great idea and with a cable – rather than a device – it means you do not need to ferret around trying to get it to fit into the port.
However with a device you need USB 3.1 ports to support the full function of the device otherwise it will be just a 32GB memory stick, this was the size sent to me but I understand they do other sizes.
The USB3 end will fit only one way in the port while the 'Type C' will of course fit either way.
The USB3 end will also be readable and writeable in USB2 ports but at a slower speed.
The unit is 1.7cm long, 1.4cm wide and .6cm thick and it weighs just 2grams.
It is a sliding unit with the USB3 end either protruding 1.3cm or .6cm from the case and the Type C either .6cm protruding or flush with the case.
As USB 3.1 ports become more mainstream then USB Type C devices with also and Emtec may find initial sales slow unless they can piggy back with the manufacturers of machines with these ports. I read somewhere that around 1 in 6 Smartphones will have USB Type C ports next year (2016).
The Emtec DUO USB-C 32GB device is as yet currently unavailable. I have asked several times for a link.
Leef iAccess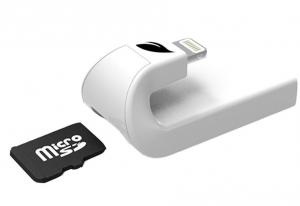 click image to enlarge
This is described as an iOS microSD reader. The card I was sent to fit in the device was 16GB but I assume larger sizes will work – up to 64GB I read somewhere – the idea is that this device fits into charge port of recent 'i' devices.
I was able to test this on the iPad 3 mini I have recently reviewed.
The device is 4cm long, 2.1cm wide and between .6 and 1.5cm thick, it weights 6grams.
The Lightning connector does a 180degree turn from the front this means that the amount of the reader that sticks out from the 'i' device is only 1.5cm.
Whatever micro SD card you use fits almost flush into the lower part of the reader with nothing exposed to get knocked. Probably .1cm is exposed but as the curve is around .3cm nothing is exposed. The main part of the device curves under the 'i' device.
When you first insert it you are told that you need an App supplied by Leef to use the device, it is available from the iOS store and it offers to get it for you. Once the App is downloaded whatever card you have is seen and you are able to transfer files to and from your 'i' device. In future when you connect the Leef device you are just asked to confirm that it may access your 'iI' device and you are able to use it instantly.
This means that videos etc. can sit on the Leef device and the 'I' device sees it as part of its memory and they play without delay.
This little device means that any device that has a micro SD card can now transfer data to and from an 'i' device.
The Leef iAccess is available from the link below for $49.99.