Casio Ediface Chronograph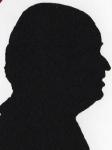 It's been a while since I have reviewed a watch with hands. In the last couple of years my life saving heart rate watch and the rather stylish – if strange – Nooka offering have taken my time, here a Casio Chronograph but it has hands.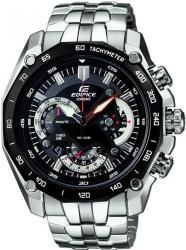 click image to enlarge
My starting point for most reviews is size and weight so 5cm wide, 5.5cm top to bottom - with strap lugs – 1cm thick. The weight is a not insubstantial 176grams this is with the rather bulky metal strap attached to the unit.
It's been a while since I have worn a stainless steel bracelet as the two mentioned above had basic plastic offerings.
While I assume it is politically incorrect to call this a mans watch surely the weight alone will discourage many ladies from wearing it. They would also need to remove several lugs from the bracelet to fit a normal ladies wrist.
I am told this item is exclusive to WatchShop (link at the end) but I am pleased to say the price does include free delivery within the UK.
The Users Guide is a large piece of paper split into six languages luckily they do not do the paragraph at a time method so all of one language takes two columns. I found one major point of problem; you must read all the instructions before starting out to set your watch for the first time. Item one says 'pull the crown out to the second click' this is not possible until you have unscrewed it and this warning is printed way down the column.
Other than that the instructions are clear and easy to follow. The watch itself has three subsidiary dials at the 15, 30 and 45 quarters inside the main dial. In good light the hands appear an almost cream shade of white. Reduce the lighting and they show up near blue the same effect that luminosity used to give for those old enough to remember this.
Having recently reviewed a waterproof camcorder this item is also waterproof but not just to three metres like the camcorder here it is stated to be waterproof to 100metres and while it did get damp occasionally I did not immerse it to any depth. So it's up to others who might like to take it on a dive in an ocean or very deep pool.
The crown has two pulled out position to set the time and the day. Buttons above and below the crown do the other functions. I found the date – displayed as a number – at around 7.40 on the dial rather difficult to read easily.
The 1/20 of a second chronograph, sixty minute counter and possible 24 hour dial are the units out of the ordinary features. These are all explained in the User Guide but as someone of mature years the instruction sheet is printed in a small text that is readable – just – but my sight is better than a lot who may struggle and in the same vain the dials detail is clear enough when you know what is where but on initial inspection it certainly is not.
I only had this for a short test period and while I began to understand it maybe it is for someone slightly younger with sharper eyes to see its full potential. Yes I tried all the features as listed and they worked as stated.
For me anyway the sheer weight was the thing I found it hardest to get used to, it became easier after a week but I still noticed the weight. It is after all three times that of a simple single function quartz unit costing a few pounds.
The RRP of the Casio Ediface Chronograph Watch is £175 and can be purchased from the link below.
http://www.watchshop.com/mens-casio-edifice-exclusive-chronograph-watch-ef-550d-1avef-p99948628.html