Keyboards from Brando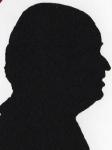 First one designed for use with an iPad and by having Bluetooth it can also work with other systems even if it does not fit smoothly in. Second something the size of a 'Palm' type device with a small QWERTY keyboard and large trackpad.
Bluetooth iPad Keyboard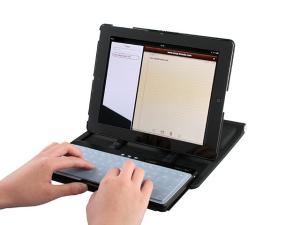 click image to enlarge
What I am looking at is a Bluetooth Keyboard that was designed to work with an iPad or such similar type device.
Sadly Santa failed to bring me one of those - once again - but it works with any device capable of pairing so a PDA or Android device can be used without problem. The design of the device means that the keyboard should sit flat in front of the iPad with that portrait at around 45% while most Android devices are slightly to big to fit a little Velcro or tape gives a perfectly respectable fit and smaller devices such as PDA's and small Android fit inside the lid/cover without any problem.
The unit is rather like a notebook in shape at 24x21x2.5cm when closed. It weights less than 500grams but I see this being used in the home or office when you are typing more than the odd sentence or three and an on screen keyboard becomes a pain.
The lid opens to 185degrees and also rotates through 360degrees so it can keep your iPad at any angle you want.
The lid clicks in behind the keyboard at around 110degrees to give a nice reading angle behind the keyboard but of course you can have the iPad anywhere nearby as the connection between the keyboard and the iPad is Bluetooth.
The keyboard is QWERTY and consists of 80 keys all the alpha and numeric keys are 1.4x1.2cm with the others somewhat smaller. The big question is can you touch type on it and my answer is just about once the slightly smaller vertical size is taking into account. There is decent amount of travel in the keys to help you.
The supplied charging cable is located in a drawer behind the keyboard and it fits into the right side of the keyboard.
As I could you this with an Android device using some tape and rubber bands using it with an iPad must be very easy. I did try a couple of 'smartphones' but as they are so small in comparison it looks somewhat strange.
The iPad 2 Hard Case with Sliding Bluetooth Keyboard is available in black or white from the link below for $69 (US) + $3 (US) P&P
http://shop.brando.com/ipad-2-hard-case-with-sliding-bluetooth-keyboard_p05801c0299d057.html
iPazzPort
The connection to whatever device is USB. It is 11.5x8x.7cm and weights only 50grams, the one sent to me was white.
There is a tiny push in on/off switch towards the bottom of the right side. The five line keyboard has a slight upward curve, definitely one or two finger/thumb operation as the keys are only .5x.6cm. There are a total of 54keys and each has two uses in combination with a second key. But all the alpha and numeric keys are a single push.
There is a nice positive action to the keys. Above this is a 4.5x5.5cm mouse pad and this has normal mouse buttons below it left, right and centre all just above the keyboard ideal for those who hate clicking the pad itself.
The supplied USB lead is 1.5metres long micro in the keyboard and full size normal USB in the PC or whatever you are connecting it to. It is plug and play and no drivers are required.
The USB Tiny Keyboard with Trackpad is available from the link below for $22 (US) + $3 (US) P&P.
http://usb.brando.com/usb-tiny-keyboard-with-touchpad_p02637c034d15.html