Nooka Zub Zoo 40 Watch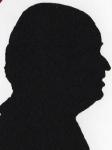 With the wrist watch seeming to go the way of the pocket watch nearly a century ago – most people now seem to check the time on their phone – a new offering needs something different about it to raise more than a glance.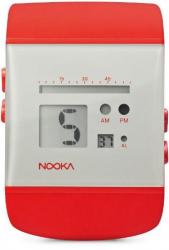 click image to enlarge
This is different, very different. The one sent to me was lime green with a light grey strap fixed tightly so the watch can stand vertically even when not attached to your wrist. It is slightly wider than it is tall and still reasonably thin.
It weights 60 grams and the face is 4x3.7x1cm, however the moulded strap is so thick and tight near the watch that the 3.7 becomes a lot nearer 6cm. I suspect it could become a fashion accessory if worn by a few models/pop stars.
It arrived in some bubble wrap and with no instructions it was working but the time was incorrect. There are two buttons on each side and after a lot of trial and error found the two that allowed the time to be correctly set.
During my review period it has kept perfect time and it has certainly caused a lot of comment from those that have seen it.
The back of the watch has a mirror like finish (not glass) with some tiny writing and at my advanced age I needed a magnifying glass to read it, but I also found that there is a description of what the various buttons do.
The surprises about this watch are not finished, of course it is digital – I remember when digital watches first came out Dave Allen an extremely funny comedian telling a scat about trying to teach a young child to read an analogue watch in the end he gave up and gave him a digital one – It has a 1cm square window that shows the hour, above this a 2.2x.2cm opening that has a progressive black line that tells the minutes if you look very closely you can see three light grey lines just above that mark the quarters.
Just below the minute line are two .25cm across circular windows that show AM or PM as a black blob. Below this is a .3cm square that shows the seconds and to the right of this a tiny pin hole circle completes the display.
This is truly a very different watch. The top left button shows a blue backlight that in total darkness might give the time but the backlight appears only for three seconds on a push and while the hour and AM/PM should easily be read in that time I doubt that a very close reconstruction of the minutes will take place that easily.
At this point I read the press release to find that the Zub Zoo 40 is available in four strap colours grey, black, red and white and four face colours grey, white, green and black. I am not sure if all possible combinations are available to purchase.
This also informed me about the Chronograph and Alarm features that without any instructions – that no doubt are in or on the box – I was unable to program so I cannot tell you how loud the alarm is or how the chronograph works.
I suspect that the young will love this I also see from the press release that Nooka Inc also do rather nice looking conventional watches that might appeal once the up and coming have become the executives of tomorrow.
Doing my searches found the Nooka Zoo Zub 40 at £99 with free delivery from the first link below.
http://www.amazon.co.uk/gp/product/B005LFQG0W?ie=UTF8&tag=gadge0a-21&linkCode=as2&camp=1634