Headset for the Traveller

The iGo Memphis is a solidly made over-ear stylish stereo headset with built-in microphone for those who don't like in-ear headphones. With its nicely padded -- but not too large -- ear cushions and headband it will provide a convenient companion for smartphone users who want something better than the headset normally provided with their phone.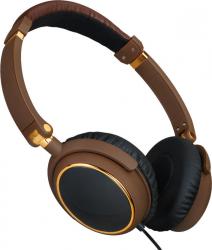 click image to enlarge
This headset is ideal for regular use when one wants to listen to music or the radio on one's smartphone and yet be able to be readily accessible on the phone. Calls can be accepted, and then terminated, just via the push-button on the in-line microphone.
I have no way of checking on the 20Hz to 20KHz claimed frequency response of the 40mm drivers. However, I found the sound smooth and responsive from a number of sources including an MP3 player and a DAB radio plus, of course, phone conversations. Although not noise-cancelling I found that the padding provided a degree of isolation while not preventing one from being aware of one's surroundings.
The Memphis sits easily over one's ears for reasonably long periods and yet, when desired, it could be quickly slipped off and left hanging around one's neck.
Available in brown/gold or black/red, the Memphis has been designed with the traveller in mind and weighs less than 125g so is hardly a burden to carry around. The single-sided 1.5metre cable which terminates in a standard 3.5mm plug comes out from the base of the left hand earpiece; the connecting cable to the other earpiece being neatly concealed in the adjustable headband. When adjusting the headband there is a definite series of clicks and so making it easier to set the headband to a comfortable length.
Not only do the ear cups swivel so that, in use, they fit more comfortably on one's ears; when not in use hinges on headband enable the earpieces to fold inwards and so ensure that the headset takes up minimum space in one's case.
Although I would have liked to have a simple case for the headset to keep it tidy when not in use, I found that with a little practice it is possible to wind the cable around the headset so that it was less likely to get in a tangled when stowed away. Hence it is a useful travelling companion and, priced at £24.99 it won't break the bank.