Sharing Peripherals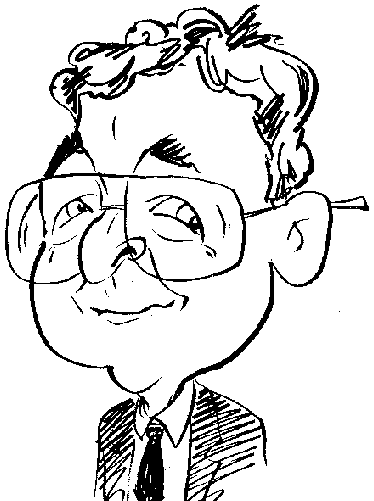 Review controls
This is a tale of a struggle with uncooperative cables and a piece of kit that did its best to frustrate me until technical support came to my rescue.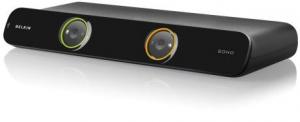 In the past I have a used a number of KVM devices. For those not familiar with this type of product, I should explain that this kit allows you to set up a keyboard, video and mouse so that they can be shared by two different computers. You simply switch control between the two computers either by a hardware toggle or hot key combination. Recently I have had the opportunity to work with the Belkin OmniView SOHO KVM Switch with audio. This product is available in 2 and 4 computer versions with this review being based on the 2-port model.
Unlike the other KVM units which could be described as pocket-size, this Belkin model is far too large to fit into any pocket I possess. With dimensions of 317.5 x 139.7 x 40mm (L x W x H) and weighing 0.68kg, the main KCM unit could quickly take over a fair amount of space you might gain as you reduce your peripherals to a single keyboard, monitor and mouse. The Belkin unit also adds audio for speaker and microphone to its feature set plus the ability to attach two USB devices for sharing. This could be a printer or other similar device.
Decorating the front of this matt black box with curved ends is a pair of circular buttons which act as port selectors. These buttons have LED lights to indicate which computer is in charge and which is waiting its turn. These buttons look a bit like goggle eyes and are colour-coded in the same fashion as are connection at the rear of the unit.
While the front of the unit is rather sparse in its furniture, the rear of the unit is far more heavily populated with three bands of connections covering input and output for both computers. Part of the reason for a slightly over-crowded appearance is that this Belkin KVM supports the attachment of two monitors. While for many the second video connection will remain unused, there are some who will appreciate being able to have two different monitors set up to carry out specific tasks. You get one extra video input connection and two additional outputs, one for each computer. As mentioned the output connections are colour-coded to help with setting up this unit.
Alongside the keyboard, mouse and video connections, you get speaker and microphone jack sockets. On the left of the unit are the connections for attaching the keyboard, mouse and monitor leads while a similar arrangement positioned centrally and on the right provides the output for the linked computers. There are two USB input ports for attaching appropriate devices to be shared by the connected computers.
Perhaps due to the fact that this device will be providing video, keyboard, mouse, audio and, for some, USB sharing, the cables supplied with this unit are heavy duty and fairly rigid. A certain amount of man-handling will be required when positioning these leads so that they do not interfere with your workspace or other items of kit. I know I uttered a few choice words as I struggled to arrange these cables. Part of the reason for my expletives could be explained by the difficult I had in getting this KVM to recognise the various elements of my set up.
Following the instructions in the basic set-up guide, I attached the various leads to the two computers and then switched on the KVM (it does require its own power lead which is supplied) and computers. The result was not quite what I was expecting. I was greeted with a view of the current desktop but without any mouse or keyboard functionality. Switching to the second computer proved to be impossible. After double checking all the leads and connections, it was time to put Belkin's technical support to the test and see if they could get my system up and running.
The solution, when it arrived, was straightforward although it did involve another session of man-handling the various leads into position. Rather than connect both computers prior to switching everything on, I had to attach one computer. After ensuring that everything worked and both the keyboard and mouse were recognised, I then had to attach the second computer. Why this two-step approach worked when the one-step method did not, I have no idea but at least I could use a single monitor, mouse and keyboard with two computers.
Attaching a USB device to one of the USB ports allowed me to access it from either computer. You do have to make sure that the relevant software is installed on both computers for the USB device.
Switching between computers can be carried out by pressing the appropriate button on the front of the KVM or using one of the supported hot key combinations. There is an option to customise these keys. However I was unable to find a way that would allow for automatic switching if I switched off the active computer. This feature was available with an earlier Belkin KVM.
This KVM will work with any version of Windows from 2000 onward, Mac OS X 10.4, DOS and Linux. It supports keyboards with 101, 102, 104 and 107 keys plus 2, 3, 4 and 5-button mice. However there is not support for any special mice features delivered by software. At the time of writing, this KVM was available from Amazon at a price of £84.17
http://www.belkin.com/uk/IWCatProductPage.process?Product_Id=457360