Step-by-Step with Windows 7

Someone who is new to PCs -- yes, there are still some -- find that getting to grips with their new machine is rather daunting. They need a book which will enable them to get started and guide them through the various tasks they want to perform. Simply Windows 7, by Paul McFedries, which is described as a "Step-by-step introduction to Windows 7" covers most things that the new user will need in a clear manner which is well illustrated with screen shots.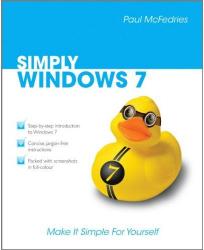 click image to enlarge
This 200 page book begins with starting and shutting down Windows, what you see on the screen and using the mouse. This is an important starting point as these are totally confusing tasks for the new user. It also explains how to get help and, rather simplistically I thought, lists some of the things that one can do with the PC.
The next chapter cover programs: launching, switching between them and then working with program windows, e.g. minimising, as well as the basics of dialogue boxes and menus. The explanations are straightforward and nicely illustrated. Installing and uninstalling programs is also covered even though the overall slant of the book is directed at Windows 7 and the features that it offers. For example, when discussing documents it covers WordPad and Notepad, rather than Word.
Saving and opening a document as well as the important tasks of manipulating text, changing its appearance and then printing are among the topics covered under the heading of Creating and Editing Documents while the chapter on working with images includes importing images from a camera, using a scanner and then printing the result. Cropping an image, adjusting colour and fixing red eye are among the picture fixes explained.
In addition to using the media player to play both audio and video files, the book shows how to copy tracks from a music CD and burn files to CD. Other topics included are browsing the Internet and e-mailing where, as well as the basics of sending and receiving messages, forwarding of messages and the opening and saving of attachments are explained.
Security and file management and other housekeeping tasks such as backing up and defragmenting are not overlooked. Overall, it must be appreciated that there is a limit to what, and to what depth, a book of this nature can cover. Nevertheless, I feel that not only will it be useful for the newbie, it could well provide some useful guidance for those migrating from XP.
Simply Windows 7, Paul McFedries, pub. Wiley. ISBN 978-0-470-7-1133-0. This is very reasonably priced at £10.99. At £4.88 on Amazon it is a steal.