Small Keyboards from Brando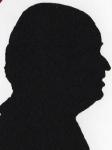 The first is a roll up keyboard designed to be used with Bluetooth devices. The second is even smaller but certainly preferable to using those phone keyboards, the first is possibly touch typeable and the second could be if you have small fingers.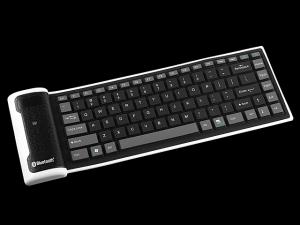 click image to enlarge
Bluetooth Mini Keyboard
This is 25.5x9x1.5cm the last measurement the thickness is only at the left end for just over 4cm, the rest is less than .5cm thick.
It has 84 keys and as it is rollable it is made of rubber but there is a feeling when you depress a key. The alpha numeric keys are black with white lettering and are 1x1cm with around .3cm between keys. The function and other keys grey with white lettering and the function keys are rather small at 1x.5cm with around .3cm between keys.
It does come with a retractable 70cm mini USB to USB lead so you could use it as a standard USB keyboard if required. The mini USB is the only connection on the keyboard.
The fourteen side small User Operation Manual does say it can be used on MAC but I have not tried this myself. It certainly works on Windows and with various phones and smartphones where on pairing you have to enter a six digit number as shown on the screen into the keyboard to activate the pairing. This is a once only procedure.
It is stated to work up to ten metres away from any device when in Bluetooth mode, but as most will be small personal devices they are unlikely to be more than around one metre away normally probably far less than that.
Available from the link below for $35 (US) with a p&p fee of $3 (US) whatever the size of your order.
http://usb.brando.com/flexible-bluetooth-mini-keyboard_p01737c034d15.html
Dual-Connect Slim Bluetooth Keyboard with Mouse Track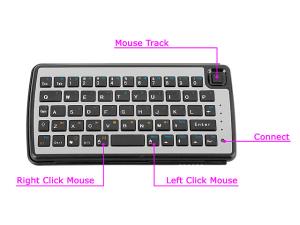 click image to enlarge
This is 14x7x1.5cm with the 'mouse track' top right to the right of the numerals. Mine was black and dark grey.
It has 54 keys so 'Fn' and blue marked second use images form a big part to give you another 39 keystrokes to enter.
It has a very solid feel but I expect most to use it with two thumbs. There is a positive feel to all your keypresses.
It comes with a 70cm mini USB to USB cable. You can set it up to be used with two separate device (although not both simultaneously). The manual is in .PDF formal on a mini CD. With various versions according to what device you are connecting.
It comes with a slide in case to protect the back which is where you turn it on/off and select device ½ by two small switches.
I think to use the mouse function for more than the occasional press you would need small fingers and be dexterous.
This is a nice keyboard with well thought out design and then someone made it smaller and smaller, maybe too small.
Available from the link below for $42 (US) with a p&p fee of $3 (US) whatever the size of your order.
http://www.usb.brando.com/dual-connect-slim-bluetooth-keyboard-with-mouse-track_p01971c036d15.html