Standalone Computer Linking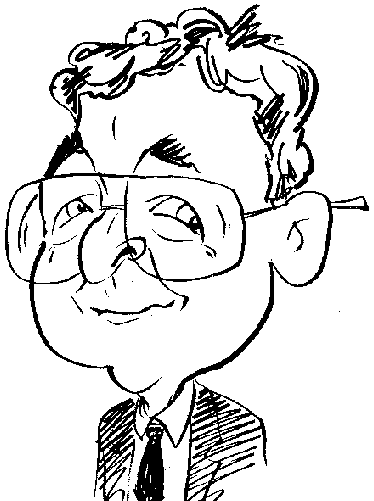 Review controls
While networks are extremely useful, there are some tasks dealing with data transfer or peripheral sharing can be carried out with a USB linking solution.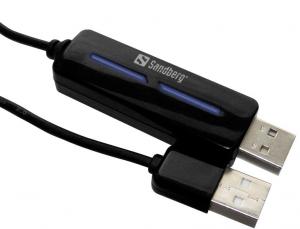 click image to enlarge
While many home users have set up a local network to link their various computers and peripherals, not everybody feels that such an arrangement suits their current circumstances. However there might be an occasional need to link together a couple of computers for a specific task. This might involve transferring data from an old computer that is about to be laid to rest to a new model with its "go faster" stripes or to allow two standalone computers to share a resource and maybe synchronise data. It is for tasks such as these that Sandberg has developed its USB to USB Share Link solution.
The kit consists of a mini-CD with appropriate software for the Windows platform, a small multi-lingual User Guide and the 146cm linking cable. As the product's title indicates, the linking cable makes use of USB connectivity. At one end of the cable is a standard USB connection while that at the other end has more of an appearance of a 7cm flash stick.
Before connecting the cable to a computer you will need to install the supplied software. According to the User Guide, you are meant to run Setup.exe. While this is the correct file, what the User Guide does not mention is the actual location of this file. Rather than being located in the root directory of the CD, it is in the Drive folder. Actually there are two versions of this file with the same size and date.
As well as neglecting to indicate the correct location, the User Guide does not make it clear that the software will need to be installed on both the computers to be linked. While this might seem obvious to an experienced user, it could confuse those who have only recently entered the world of Windows (this, after all, is a Windows only application). After both computers have been restarted, you can connect the linking cable. It does not seem to matter which way round the cable is attached with regards to the different king of connectors. However you might prefer having the flash stick connection in the more visible position as a blue light on the side of the connector pulses to indicate that a linking operation is being carried out.
The software driving this solution is entitled Go! Suite and offers to copy, share and sync folders and Microsoft Outlook content. Copying files and folders from one computer to another is carried out using the Bridge function. Two slightly different methods are provided to carry out this task. When a single location is involved, as with files within a folder or even the whole folder, you can use the standard copy/paste method to select and carry out the transfer. When the files are in different locations, you will first need to place then in a Dock facility using copy and then transfer them using paste. Using a pull rather than push process, the selection of files and folders to be transferred is carried out from the computer that will receive the data.
Sharing resources between the linked computers is limited to just two peripherals. You can share a CD drive or an Internet connection. When setting up a sharing link you are warned that any running anti-virus software might cause a problem. Maybe this was the reason why I was forced to remove and then re-attach the cable from both systems on more than one occasion before I was able to achieve the necessary sharing link. Once the connection was made, no problems were encountered.
Separate synchronising options are available for Microsoft Outlook data, such as contacts and emails, and other types of files and folders. When selecting to synchronise you can choose from three different approaches. You can copy data from computer A to B; work in the opposite direction; or ensure that the designated folders are identical on both computers.
Whether copying, sharing or synchronising, the set up process is a little time consuming as the link is set up and directory read from both ends. There is also a restriction with regards the length of the cable. While 146cm will be enough for computers close together, it will not suit every situation. As mentioned there were a number of occasions when I needed to remove the cable and then reattach it before being able to carry out a task. The Sandberg USB to USB Share Link is better suited to the more experienced user.
Compatible with Windows XP, Vista and Windows 7, this product comes with a 5 year warranty. It has been priced at £23.99.