Bluetooth meets Fashion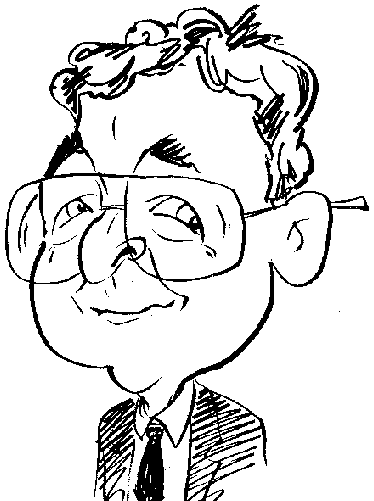 Review controls
What do you call your first product designed for a new market? In the case of Novero, the answer tells you everything and nothing about the product.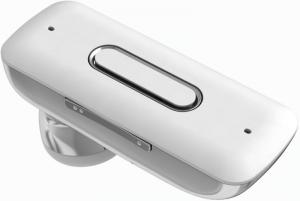 click image to enlarge
While the name Novero might not be familiar to you, some of the company's numerous clients in the automobile field will be. These clients include Land Rover, BMW, Volkswagen, Ford Europe, Mercedes-Benz and Bentley which is a fairly impressive list. However it is not Novero's work in the field of automobiles that is the focus of this review although there is a connection with the company's use of Bluetooth technology.
Recently Novero has taken steps to enter the consumer marketplace with products designed with both fashion and usability in mind. One of these products, in fact the company's first consumer offering, is the appropriate named TheFirstOne. This is a Bluetooth headset.
Stylishly packaged in a translucent, Perspex box which splits into two compartments, the product is aimed primarily at the female user although there is nothing to stop men from using the device. The top compartment holds the Apple White earpiece while the bottom section houses a mini-disk containing an electronic version of the User Guide (brief set-up instructions are found elsewhere in the box) plus the various connection options for both personal attachment and charging facility.
As mentioned, earlier, fashion is to the forefront with this device and others in the company's range. Novero believes that appearance is of at least equal importance as other issues with the result that users will either want to wear the TheFirstOne as a necklace or clipped to an article of clothing such as a tie, belt, pocket or blouse when not in use. In order to carry out these two types of attachment, the necessary accessories are provided in the box. You get a lanyard for necklace wearers and a detachable clip-on unit for attaching the unit to your clothing.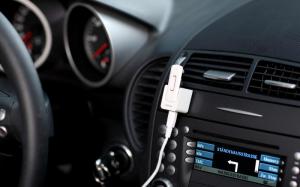 click image to enlarge
As far as charging this Bluetooth headset goes, you are provided with a number of options. Both two and three-pin clip-on adapters are provided for the mains power plug that has a USB port that can be used with the supplied USB lead with a mini-USB connector. A cigarette lighter adapter is provided for in-car charging and you also get a desktop docking station that can provide charging facilities while you are working away at other tasks.
With dimensions of 46.9 x 22.6 x 16.5mm and weighing 10.8g, TheFirstOne headset, as I have already stated, is Apple White in colour (the device will be sold in Apple stores but without the mini-CD as this type of media does not fit in with the way Apple views matters) and can be attached to either ear. A collection of earpieces are provided to help give a more comfortable fit. However Novero has taken the decision not to include an ear-loop with this product – from my point of view this is a mistake as there were occasion when TheFirstOne fell out of my ear and I definitely missed the security that an ear-loop offers.
TheFirstOne has an operating range of around 10m and it can pair with two separate devices so that it can be used with both a business and personal phone when necessary. Pairing is straightforward and causes no problems. Depending upon which ear is used to mount the headset, you will find the volume control on either the left or right side of the unit. The face of the headset holds a multi-function button plus microphones at the top and bottom. Controlling the unit is via short, long, single and double clicks. While it does take a little while to get use to these controls, it soon becomes second nature.
Audio quality is of a reasonable standard with some attempt to remove unwanted background noise. I just wish Novero had thought about Neanderthals, such as myself, who feel safer with an ear-loop. On a full charge you should be able to get up to 4.5 hours with a standby rating of up to 100 hours. Remember fashion costs and this is shown in the pricing of TheFirstOne which bears a price tag of £119.