Windows 7 Up and Running -- a book to get you started

Even though the majority of us are not, as yet, using Windows 7, the situation must surely change before too long. After all, it is now being installed on new machines. Furthermore, there are many Vista users who will want to migrate. This book could well ease them through the migration process.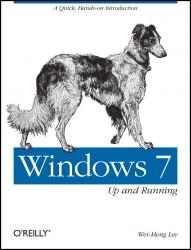 Windows 7 Up and Running published has the sub-title "A quick hands-on introduction". It has been written with the aim of assisting existing users of XP and Vista to upgrade painlessly. Consequently, it is not for the person who has just bought their first machine as it assumes a reasonable (but not an enormous) amount of previous knowledge.
After mentioning the differences between the various versions of Windows 7 it covers system requirements and installation. As is quite well known, one cannot upgrade directly from XP as, unlike Vista, a clean install is required. The book covers the way that this can be dealt with by use of the Easy Transfer utility which enables computer settings and files to be transferred across to Windows 7.
Following installation, the book covers what is new in 7 with particular reference to support for touch screens, the taskbar and how to use it together with the associated shortcuts.
Although Windows 7 does not contain the same portfolio of bundled applications; a number can be downloaded free of charge from Microsoft. The book covers Messenger, Mail, Photo Gallery and Writer. This latter, by the way, is a blog publishing application. It then covers the built in tools such as the Snipping tool for screen capture; photo viewer and the disc image burner.
However, Windows 7 is more than just an upgrade. It includes a number of noticeable changes which will take a little while to understand and put to work. The book explains Tasks and Destinations in Jump Lists before going onto Libraries and how to create and use them.
The book also covers the way that this new version of Windows has enhanced its networking such as creating and then joining a new HomeGroup. File and printer sharing are also there as well as the updating of security features. These include BitLocker Drive Encryption as well as issues relating to user account control.
While much of the book is, in effect, a reiteration of what you can learn by spending your time browsing through the menus and looking things up in the Help files, it is very useful in giving an idea of what's new, where to find it and how to use it. In particular, many users will find the chapter on using Windows 7 in XP mode of importance while others will find that on Internet Explorer 8 of relevance.
Priced £18.99, Windows 7 Up and Running by Wei-Meng Lee ISBN 978-0-596-80404-6 is published by O'Reilly. It can also be obtained from Amazon at £11.29.