Jabra low cost bluetooth headset

The SP200 is one of the newer budget additions to the GN Netcom's Jabra range of Drive 'N' Talk Easy Bluetooth Speakerphones. It is easy to use without taking one's eyes of the road and so is possibly safer to user than a number of products on the market.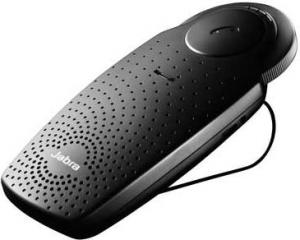 It is a neat matt black unit which fits comfortably in the palm of the hand. While at first glance the visor clip, made of blackened spring steel wire, appears cheap it is extremely effective and is able to accommodate quite a range of different visor thicknesses. I did, however, feel that with a thick visor it is quite likely that unsightly marks would remain on the visor where the wire clip had been.
The controls are simple: a slider on/off switch, a large answer/end button, and a rotary volume control. The latter two are easy to locate and operate just by touch without one needing to take one's eyes off the road. Where necessary the microphone can be muted by pressing the answer/end button for about 2 seconds until one hears a beep; pressing the button again un-mutes the call.
It "paired" without any difficulty with a "mature" Nokia phone. Then, when subsequently switched on, the phone displayed the Jabra's volume setting on a bar graph. In addition, when adjusting the volume up or down the Jabra bleeps. Thus, even prior to a call, it is a simple task to set a suitable volume level. The instruction books states that other functions such as call rejection, voice dialling and last number redial are all available dependent on the phone actually used.
The USB cable unplugs from the provided car charger. This means that, if required, the Speakerphone can be charged from a PC USB socket. The makers claim up to 10 hours talk time and up to 23 days standby so charging should not really pose a problem.
To economise on battery power, the Jabra goes into sleep mode automatically when disconnected from the phone for 15 minutes. It comes alive by just tapping the answer/end button.
Although there was no difficulty with intelligibility and the speech quality was reasonable even though overlaid with variable noise which just one person described as "watery".
Overall, it looks functional and is functional and, having a RRP of £39.99 and a street price of between £25 and £30, it is also a pretty good buy.