Items from Brando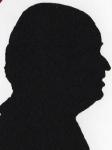 Yes here it's two further useful USB devices from those people in Hong Kong. While the dollar is higher than last summer their prices and still good value as is their $3 standard delivery charge for shipping anywhere in the world. The two items from their huge USB repository today are a Micro Mini Wireless Keyboard and a Business Portable Recorder.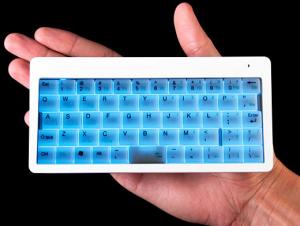 Micro Mini Wireless Keyboard
It is 17x8x1.5cm and cream in colour as is the Wireless receiver that is 5.5x1.5x1cm. The alpha keys are 1.3x1.2cm with the other keys 1.2x1cm.
I doubt most could touch type on this unit. The keys are the same cream colour with the letters and numerals being in black. It is a 56 key keyboard and there are 35 keys with 'FN' functions in green as well as the standard black ones.
A pair of 'AAA' batteries are supplied to keep you in contact with your PC or notebook. A magnifying glass is not provided but could be useful should you need to read information printed on the back of packaging.
I am afraid that the industrial scissors were needed to extract the keyboard from the packaging, my views on this are well known so I will not bore you with them again. This item uses the 2.4GHz band and is stated to have a 10 metre range. I cannot confirm this as I would need a pair of binoculars to see the screen from 10 metres away, I can confirm there were meaningful letters added to a word processing document when I was the other side of the room around 4 metres away.
Available at $47 US from the link below.
http://usb.brando.com.hk:80/prod_detail.php?prod_id=00753
Business Portable Recorder
You may ask what a Business Portable Recorder is, well the box says it does Video Recording, Audio Recording, PC Camera, USB Disc and a Writing Pen. The first three one assumes are done surreptitiously as the whole unit is shaped to look exactly like a normal pen.
I have looked at a similar device marketed by a firm making 'spying items' and their product carried a large premium. The pen is 14.5cm long and a maximum of 1.5cm round at the top, mine was black with silver embellishment but the box seems to suggest that Silver Grey, Blue and Peach Red are also available.
Mine came with a 2GB pen/stick drive but 4GB should also be available. When taking video from the pinhole camera (this is located just above the pen clip) it takes VGA (640x480) images and this will use around 22MB of space per minute of video.
Taking images from around 50cm away gives an image of around 30x50cm and with care it is quite good, sound quality is as good as most recordings made on portable devices. The files produced are .AVI and play back through Windows Media Player once you connect the pen/stick drive to a USB port.
It does sort of explain how to reset the date and time while the two digits for month and day and the two digits for minutes and for seconds were clear it is not clear how the year should be changed and all my recordings were make in 2023 still as long as you know it is possible to back calculate.
The box has a range of leads including a camera tripod and power adapter and even a spare pen refill (yes you can even write with it. It can therefore be recharged from the mains or by inserting in a USB socket.
I am not sure how brilliant it will be as a spy camera as it tends to show a pin hole blue light when ready to record and flashes yellow when recording but as this is towards you (opposite side to the lens that is above the pen clip) it might be possible.
As stated these items are often sold at a huge premium when 'for spy purposes' not so here as it is available at $59 US for the 4GB version from the link below.
http://usb.brando.com.hk:80/prod_detail.php?prod_id=00776
Remember however large or small your order you pay a flat charge of $3 P&P.