Kensington visits Chelsea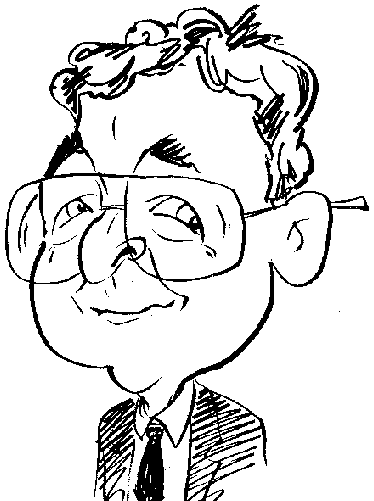 Review controls
Current global financial issues aside, and lets not mention some recent football performances and results, Kensington opened the New Year with a showcase featuring some of its new products at Chelsea Football Club's almost palatial hospitality facilities.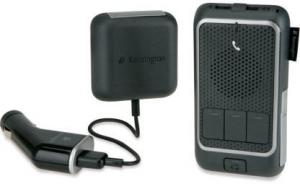 click image to enlarge
Deciding to give the offered conducted tour of the football establishment a miss, I concentrated my attention on the new products, some of which will be reviewed at a later date, that are meant to enhance various aspects of the digital experience. My first port of call was the display of various products designed to work with the ubiquitous iPod and other members of its family. Kensington announced several new products in this personalised digital enjoyment range. Whether it is music, mobile phone or simply the problem of inadequate battery life, Kensington has a possible solution. iPod nano users might appreciate the Kensington Auxiliary Dock for this device when travelling in the car. With the nano held in a cradle and attached to the auxiliary port of the car radio (not all radios have this feature), you can drive along listening to your favourite tracks.
For those who can not bear to be separated from their iPhone or Bluetooth handset, Kensington offers its Hands-Free Visor Car Kit. This device features one-touch speed dialling for three favourite numbers with a swap button that allows seamless connection to a second or third phone. The device can be clipped to the car's sun visor and it comes with two rechargeable battery packs that can give up to 20 hours of talk time.
If you are just looking for a means to extend talk time on your mobile handset then Kensington can step in with its Rechargeable Pocket Booster for Mobile Phone. This device can provide up to three extra hours of talk time on your mobile phone through the use of two rechargeable AAA batteries (supplied). You could also use this kit to recharge other devices such as a wireless mouse or PDA.
While on the subject of providing power, it is perhaps the appropriate time to mention a couple of Notebook Power Adapter products from Kensington. These models belong to the Kensington Thin Notebook Adapter family and they come with ENERGY STAR classification. Both units work with more than 90% of top-selling notebooks through the use of supplied tips. Additional tips for other notebook models are available from Kensington. The Wall/Air Ultra Thin Notebook Power Adapter and the Wall Ultra Thin Notebook Power Adapter feature a built-in USB power port so that you can charge other devices such as mobile phones, MP3 players or PDAs. Remember these are charging devices that provide the link between a power source and the device rather than rechargeable battery packs.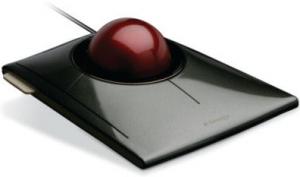 click image to enlarge
Adding to its SlimBlade range of mice (Presenter, nano and media multi-function devices already exist), Kensington has launched the SlimBlade Trackball. Although I have never been a fan of this type of device, it did seem easy to handle and manipulate the cursor during my brief testing of the unit. This Trackball can be used for media control and does not appear to suffer too much from fingerprint smears.
Whereas I tend to run two computers with a single monitor (also a single keyboard and mouse via a KVM set up), Kensington feels that there is a market for running a computer with more than one monitor. It has developed the Multi View Monitor Adapter. This allows users to run different applications on a second monitor. Personally I do not have enough space for two monitors but I can understand how useful this could be in some circumstances.
I was more interested in the ShareCentral 5 product. You can attach up to four USB devices which can then be shared between two computers. Unlike some other sharing USB products I have seen, with ShareCentral 5 individual devices can be quickly switched for control between users rather than an all or nothing approach.
You may well be aware that nearly 30 million personal records were lost by various public sector bodies in the year ending September 30, 2008. However you may well not be aware that when Kensington offered 150 free laptop locks to MPs, only eight took up the offer. And you thought MPs grabbed every possible free gift going.