Microsoft Webcam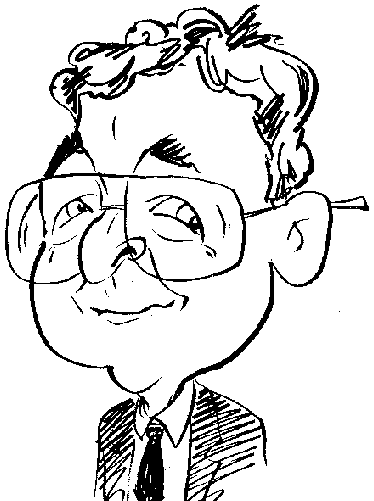 While Microsoft is better known for its software products, the company also develops various hardware items including a webcam.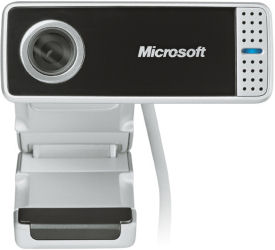 Webcams tend to come in various shapes and sizes, often depending upon the whim of a design team. In the past I have worked with webcams that resemble a large eyeball, a cylindrical tube, and even an Egyptian-style statue. The latest webcam to emerge from Microsoft hardware department, the LifeCam VX-7000, reminds me of a metallic name badge, especially when viewed from front on, worn by company representatives. Predominately black in colour with silver embellishments, this webcam is one of the smaller variety with its body measuring 68 x 27 x 22mm (W x H x D).
Featuring a hinged universal attachment base which can be manipulated so that it can sit on top of your monitor/LCD or mounted on a flat surface, this webcam positions its 2.0 megapixels sensor to the left with a built-in microphone to the right on the front of the device. Situated on top of the device is a button to activate the Windows Live Call feature but more on this particular feature a little later.
Before attaching this webcam to your computer via the permanently attached USB lead, you will need to install the supplied software first. This software, currently standing at version 1.4, includes Windows Live™ Messenger which is required to get the full benefit of the webcam's functionality. You will be informed at the appropriate point when to attach the webcam before a wizard will automatically lead you through the process of lining up the device for the best view plus testing the volume level for input and output.
Running the LiveCam software gives you the option to choose from a range of resolutions for still images and video. You can select from resolutions starting at an almost thumbnail size of 160 x 120 rising up to 1024 x 768 plus 1.3 and 2.0 megapixels for video. At the highest resolution some slight delay was noticeable in the live image. When capturing still images you can opt for the same resolution as video or take advantage of the webcams 7.6 megapixels (interpolated) capability. The glass element lens gives a 71 degree wide angle spread and is capable of 5x digital zoom. Both the zoom level and minor adjustments to direction (left/right/up/down) can be carried out from within the software.
Depending upon your taste, the LiveCam software can offer a range of additional goodies. As mentioned earlier, the webcam has a Windows Live Call feature. With this device you can instigate a video call with an online contact by pressing a button on top of the webcam's body. Although optimised for Windows Live Messenger, this feature will also work with other instant messaging services including Skype, Yahoo! Messenger and AOL Instant Messenger.
Content can be sent to others via a direct email link with an option to reduce the size of the image or keep to the original dimensions for still images. You can also post photos direct to your bog hosted on Windows Live Space. On a more frivolous note, Microsoft has included a number of special effects accessible from the LifeCam dashboard. These effects mainly consist of cartoon-style graphics with amusing animations that are superimposed on the current image.
As you might expect with a 2.0 megapixels sensor, the image quality is good especially in artificial lighting conditions. Apart from the highest resolution level, I could not detect any noticeable delay in live video. Requiring either Windows XP SP2 or Windows Vista, this webcam requires a Pentium III 700MHz (Pentium 4 2.4GHz recommended) with 256MB of RAM. I have seen this webcam advertised at £54.94 including shipping.
http://www.microsoft.com/uk/hardware/digitalcommunication/productdetails.aspx?pid=011