SlimBlade Presenter Mouse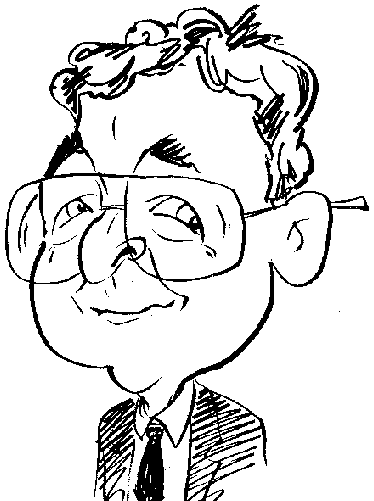 Review controls
The computer mouse continues to evolve in various ways. Take, for example, a new mouse from Kensington.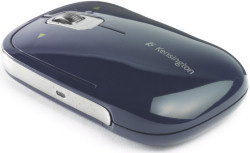 As part of its new product line-up, Kensington has released its SlimBlade Presenter Mouse. As you might suppose from its title, this mouse looks as if it has been on a diet to achieve its slim-line figure. However the cut-back in size has not resulted in any reduction in the functionality of this mouse as will become clear a little later.
Apart from its height, this almost flat mouse is fairly standard with its other dimensions as it measures 92 x 57 x 14mm. The mouse is stylishly curved around its edges and is decked out in a dark metallic blue colour. The design of this mouse is such that it will equally suit right and left handed users without any discomfort.
The body of the mouse contains a compartment at the rear that holds the two AAA batteries which Kensington estimates will give up to six months of usage. A second compartment, accessed by sliding forward a silver collar that runs round the front and sides of the mouse, is used to store the small USB device, which acts as a micro receiver using 2.4GHz wireless connectivity and is capable of operating at distances of up to 10 metres, when it is not in use. This feature is useful when using the mouse with a laptop on your travels.
In standard mouse mode, this laser device has the two normal buttons positioned either side of a rather stubby wheel with tilt capabilities for sideways scrolling. Positioned on the left side of the mouse is a small light which is meant to provide feedback as to battery strength. However no change was noticed with this light during the review testing period. In order to ensure you get the full benefit of battery life, this mouse has an automatic sleep mode which cuts in when the mouse is not used for a period. You are stuck with the default time setting as I could find no way of changing it or even discovering the length of the default period.
You can switch this mouse so that it operates in Presenter mode. This switching is achieved by holding down a button at the rear of the wheel for a couple of seconds. In this mode you can use the left and right mouse buttons to move backwards and forwards through the slides making up a presentation. You can also use this feature with other applications such as iTunes and Windows Media Player. However the functionality is extremely limited as the only effect it has is to cycle through a play-list and highlight individual entries. It can not be used to start, pause and stop tracks or even switch the track being played. It did not help that the documentation was very skimpy and offered little assistance when using the Presenter Mouse.
As a normal mouse the SlimBlade model is fine but needs to do a lot more when in Presenter mode. To use this mouse you will require a Windows XP and later system or Mac OS X 10.4 and later. Pricing has been set at £39.99.