A Low-Capacity Shredder to Co-ordinate with your PC: Swordfirsh Strip Cut 300SC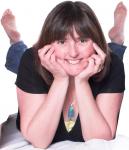 A low-capacity shredder, that looks neat beside your computer, handles up to five sheets at a time, and easily copes with its stated capacity of 30 sheets.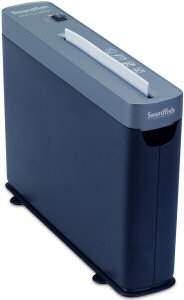 The Swordfirsh Strip Cut 300SC shredder is billed as a space saving compact shredder for 1-3 people. The capacity on the box says 30 sheets. Of course, this is the first thing I put to test. I did indeed get the autofeed to handle 32 sheets before the shredder made that lovely noise that makes sure you know not to put any more sheets in. However, being like every other normal lazy consumer, I wanted to see just how much more could be packed in. By pushing the contents down in between shredding sessions (being careful to turn the thing off first of course), you can get a few more sheets in, then a few more, then a few more. I finally stopped when I got to 67 sheets for fear of making the shredder's eyes (if it had any) bulge! Also knowing you home office users out there won't stop at just paper, I put through card, folded paper and three-fold leaflets, all of which the Swordfish handles admirably, even when I'd got past 30 sheets and was busy pushing the contents down in between shredding sessions. It will also, as it says, handle 5 sheets at a time. Sitting it next to our Novatch floor standing computer it was indeed the same height. Aesthetically it is designed to fit in next to your computer - very handy if you have limited space. The bottom half is black and the top silver, so it should colour match with most modern PCs these days. All in all I'd say this is a great little machine for a home office, neat looking, did not jam under pressure, and the manufacturers don't overstate it's capacity.
The price from Amazon is currently £27.99 and so is priced about right for a low capacity shedder. There are others around the same price with more stated capacity (40-60 sheets) that on first glance don't look quite as nice. However I've not had the chance to review these to make a direct comparison. From a quick look around I've not seen one this sleek looking in the same price range. So it will come down to whether sleek looks or capacity are your main buying criteria. If your shredding requirements are limited to a few bills, and the odd piece of confidential information, and you want a machine that is unobtrusive, this could be the one for you.