Acer Aspire 11inch Touch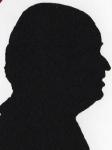 This small touch notebook is ideal for anyone needing to travel with a Windows PC. With most standard notebooks having the connections on the sides this goes about things differently, having almost everything at the rear.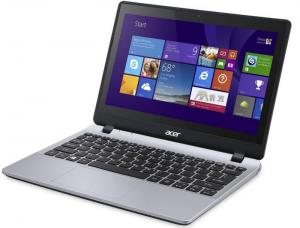 click image to enlarge
The Acer Aspire V3 touch screen laptop measures 28.5x21x1.5cm and weights 1308grams. The stated battery life is seven hours so a day's work on the road away from power is just about possible.
The left side has a 3.5mm headphone socket on the left side as well as an SD card slot. The rear has an HDMI slot, USB3 port, USB2 port, Ethernet port and power input. Unlike a lot of small notebooks that use special leads all these sockets are full-size.
The only real drawback is that it's err PINK. Yes I know modern men should embrace their feminine side, but I am not a modern man.
While the screen surround is a matt black the screen is shiny and very reflective which for those that have hair it might act as a mirror, my reason for pointing this out is that it shows all your fingermarks, and as its touch they are many.
The screen goes 45degrees beyond vertical which should be plenty. The centre of the area above the screen has a web cam and there is a pin hole microphone, just behind the keyboard along with two LEDs is the on/off button.
The area around the keyboard does not show fingermarks as its pink. The 83key keyboard has full size alpha and numeric keys but some of the additional keys are small. Each side has 1cm clear and there is 2.5cm clear behind the keyboard and 7.5cm clear in front of it with the 10.5x6cm trackpad mounted 8cm from the left and 10.5cm from the right.
The viewable screen is 25.6x14.4cm which gives the notional diagonal imperial measurement of 11.6inches. The screen resolution is 1366x768. This I find refreshing as a lot of companies call a lot of systems a part size larger than they are, here it is underestimated.
The base has a pair of speakers that at best give a barely adequate output. Connecting a pair of headphones gives far better sound.
From setup to a usable PC was 20 minutes which should be conducted with the mains lead connected as until fully on you do not know the state of the battery.
Shutdown to blank screen from desktop was five seconds and bootup as little as 20seconds.
It has full 10 point touch available from the trackpad. My unit came with Windows 8.1 and 4GB RAM, it also has a 500GB hard drive. This shows at 449GB with around 40GB of this used.
The processor is an Intel Quad Core N3540 that idles at 2.16GHz and can run up to 2.66GHz.
There are a raft of Acer Apps installed as well as CyberLink Photo Director 3 and CyberLink Power Director 10, also McAfee Internet Suite.
This unit has no fan so can be truly quiet.
If you are looking for a small Windows Desktop – they do other colours – then this should be considered, the main weak point is the lack of sound from the speakers, however anyone using it outside would probably use headphones anyway.
The Acer Aspire V3 Touch is available from the link below for £279.99 with free delivery.
http://www.amazon.co.uk/gp/product/B00U7EN5JW?ie=UTF8&tag=gadge0a-21&linkCode=as2&camp=1634