Philips 28inch 4K Panel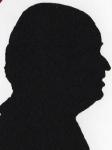 Certainly a large panel if you only want to display HDMI – 1920 by 1080 – and although it will do this via VGA it can do far more if you use other connections, exactly how much more will depend almost entirely on your graphics chip/card.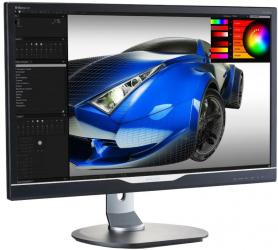 click image to enlarge
It is 65.5x40x2cm the last figure is at the edges but there is a thicker rectangle further in which increases the thickness to 5cm.
The stand is a circle with a chunk removed at the front so its 27cm deep and 30cm across. It can raise the panel by as little as 4cm from your desk or as much as 19cm with the hydraulic arm. It can of course be rotated by 90 degrees to be used as a landscape panel. Its weight with the stand attached is a tad over 8kilos.
The viewable screen is 62x33cm which gives the notional diagonal imperial measurement of 28inches.
This unit is the Philips Ultra Clear Brilliance 288P and is what is called a 4K monitor which means it can show up to 3840x2160. On the face of it this is double HD which is 1920x1080 but as its double both figures the actual pixel size is far larger.
Towards the right of the bottom edge are four touch buttons a rather bright white LED and then the on/off button. On the right side is a USB upstream port and there are four downstream ports two are USB2 and two USB3.
The connections on the rear are on the right side power in, then left of the articulated arm, Digital, HDMI, Display Port and VGA, next to the VGA are headphones out and finally audio in in case you use VGA.
The display at 4K is 'Ultra Clear' ideal for gamers wanting that extra clarity or for the CAD CAM professional or even for those with huge spreadsheets to manage.
This unit has quite a bit of back tilt but almost no forward tilt. This in itself is not a problem as the huge amount of height adjustment that is available. This can even suit those who use bifocal glasses.
Mobile High-Definition Link (MHL) means you can even view mobile phones or other portable devices to your screen.
The USB3 ports on the side can transfer data at up to 5gbit/s.
I liked the possible range of colour and brightness and there was more than enough contrast available. Even the near black scenes on a lot of recent movies were given good definition, there are meant to be 'over one billion colours'.
The two 3w speakers gave a good sound for most situations apart from having enough volume for those movies that insist of people mumbling through the dialog and in those situations plug in a decent pair of headphones if the dialog is important.
My only slight worry is the price but one thing to never skimp on is your eyesight as you only ever get one pair of eyes.
The Philips 288P6 is available from the first link below for £363 with free delivery.
http://www.amazon.co.uk/gp/product/B00JMFCF7K?ie=UTF8&tag=gadge0a-21&linkCode=as2&camp=1634
http://www.philips.co.uk/c-p/288P6LJEB_00/brilliance-4k-ultra-hd-led-backlit-monitor