Acer Aspire V Nitro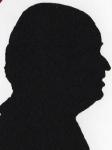 This nice looking notebook is also powerful and has an Full HD 1080P screen although it is only 15.6inches. The surprising thing is that it looks the right size even though the majority of 15.6inch offering give a much lower resolution.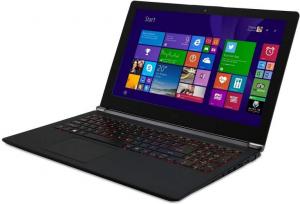 click image to enlarge
It is 38.5x26x2 and weights 2.2kilos.
Most of the connections are on the right side so if you wanted this could be close to a wall or partition on your left if you wanted. The exception is the Kensington Lock port on the back left and an SD Card port on the front. So you have 3.5mm socket for headphones, three USB3 ports an HDMI port and an Ethernet port finally the DC power input.
Often with notebooks speakers are an afterthought not so here as the sound is excellent from its four speakers.
This is called the 'Black Edition' and the matt black finish always looks clean even if it gets as many finger marks as every other notebook but as it's not shiny they do not show, even the back has vertical lines on the case with the default Desktop background echoing these at a 45degree angle.
There is a 2cm strip behind the keyboard which only has an on/off bar button towards the right edge. Both sides have a 2cm clear strip and a 10.5cm area in front of the keyboard gives ample wrist rests. The 10.5x8cm track pad is mounted 9cm from the left and 19cm from the right side. This may be a little extreme but it felt comfortable in use.
What is a little more unusual is the red backlit keyboard that illuminates for over 20seconds once a key is lit. The 104 key keyboard is full size for the alpha and numeric keys.
It has built in gaming grade NVidia graphics and faster Wi-Fi performance once you have installed an update.
There are four 'ab' programs that will only function once you have an 'Acer ID' it costs nothing but for those who do not registering things it's a bit of an imposition. There are a number of Acer apps – these however do work without an 'Acer ID' – as well as a couple of useful Cyberlink packages Photo Director and Power Director, also a PDF package and a trial of a comprehensive McAfee Security package complete the software along with numerous Games trials and of course the Windows 8.1 64bit operating system.
The processor is an Intel i7 Quad Core offering running at 2.5GHz, you have 8GB of RAM and a 1TB hard disc. As you will have read before there is no optical drive but these days with programs downloadable from the Internet it is not so vital.
In hard use – continual Internet access or file transfer by USB stick – I got just over 280 minutes between charges, in normal use this was just over six hours all this with good screen brightness. For those who need even higher resolution it can run a second screen at 2560x1440 using the HDMI port and a suitable monitor.
I found normal startup at 15seconds while shutdown was 5seconds.
This is a nice well configured notebook well worth putting on any shortlist.
The Acer Aspire V Nitro is available from the link below for £959.97 with free delivery.
http://www.amazon.co.uk/gp/product/B00S1A5ZXS?ie=UTF8&tag=gadge0a-21&linkCode=as2&camp=1634