Acer Iconia A1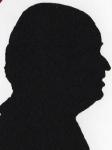 A not so small Android Tablet that is advertised as useable in one hand. Certainly for those with smaller hands this maybe a slight problem. It is however a near 8inch screen and means normal web pages display without any problems.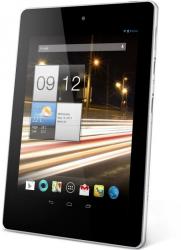 click image to enlarge
It is 20x14x1cm and weights 372grams. The screen surrounds are creamy grey and the back is silver. The viewable screen is 16x12cm which gives the notional diagonal imperial measurement of 7.8inches. Unfortunately the screen itself is rather reflective, still on a budget priced unit you rarely get non reflective screens.
It comes with Android 4.2.2. Boot up is 22seconds and shutdown 4seconds.
In the centre of the area above the screen is a 2MP web cam, a 5MP camera is mounted back left. Just above and to the right of this on the top edge is a 3.5mm socket for headphones and to its right a micro USB socket for charging. Towards the top of the right edge is the on/off button and below this the volume rocker. Just beyond half way down is a micro SD card slot. The bottom and other side are clear.
It has a pair of reasonable speakers mounted on the back near the base and these give a good volume in a quiet environment.
The battery is not user replaceable. Even in a normal room looking at the screen when off provides a perfect mirror image, so when outside in bright light you do need to find a way of shading the screen.
In use it feels solid and a day of normal use is easy achievable unless your day consists of streaming videos when the use would be around three to four hours.
The front screen with its default sea shore scene is bright and easy to read and for those who want more than the Google Play Store has to offer will be able enjoy extras from outside sources.
The back is metal which give rigidity. Its 4:3 display means a normal page is easily composeable and readable.
Colours look real on the screen so viewing images need no imagination they are as a photo should be.
The 5MP rear camera works well in daylight and even acceptably in poor light but without an LED flash night shots are not good.
Software provided includes Polaris Office so all your normal Office files should be useable.
It has a Quad Core processor running at 1.2GHz. 1GB of RAM and supports up to 32GB in a Micro SD Card. The unit comes with 16GB of internal storage as standard. It also supports OTG memory in the Mini USB charging port so 80GB of useable storage.
It supports Wi-Fi in b, g and n and I found that Bluetooth works well.
If your use is mainly indoors and on Wi-Fi then excellent, I think my hands are about average for an adult and I will need to keep stretching to use it as advertised. Certainly someone will small hands would struggle. However the metal back does make it feel solid and this means that holding the unit in the way advertised it will not flex.
The Acer Iconia A1 is available from the first link below for £129.95 with free delivery.
http://www.amazon.co.uk/gp/product/B00DDKRHBO?ie=UTF8&tag=gadge0a-21&linkCode=as2&camp=1634