Philips Touch Panel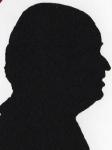 This rather nice unit from Philips turns any PC or Notebook of recent vintage into a touch unit with the aid of any normal connection method and a USB lead, so all your finger messages are transferred from the screen to the PC.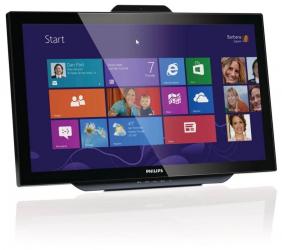 click image to enlarge
This Philips touch sensitive LCD monitor measures 55x36x3cm not including the flip out stand that extends backwards to allow the screen to sit at an almost infinite range of angles to near flat. So whatever your standing or sitting angle can be accommodated.
The viewable screen is 51x28.5cm which gives the notional diagonal imperial measurement of 23inches.
All the connections are in a single horizontal line below the flip stand, however as the unit is not that heavy you could lay if flat to make connections.
At the centre of the base area below the screen surround under the Philips name is a rectangular protrusion with five touch buttons and an LED.
At the top centre above the screen surround is another rectangular protrusion this one has a 1MP web cam and a pin hole microphone.
The five touch buttons allow you to adjust Smart Image, Input Type, Volume Adjustment, Colour and other Items; the fifth is on/off.
This unit can be connected to your PC by VGA, HDMI or Display Port. The HDMI can also support displays from SmartPhones etc.
If you use HDMI or Display Port you do not need a separate cable to carry volume to the Panel.
The 'other' button can fine adjust a range of other things but I found the display was fine with the 'Auto' setting.
The Smart Image allows you to select a range of preset options dependant on the type of work being done, the choices are Text, Office, Photo, Movie, Game, Economy or Off. Just scrolling through these shows the great range available.
While this panel will work with Windows 7 I know that Windows 8 was designed for use with touch and things that were often 'different' or just 'difficult' with a mouse or trackpad now begin to make sense and dare I say become easier with touch.
Most of us are happy using a touch screen with our phones and tablets so why not with the PC.
Certainly anyone new to Windows will find it easy to pick up using touch, those of use 'of a certain vintage' who grew up with the command line still struggle to allow the choices to be made from a Graphical User Interface so using touch is alien, however basic touch is easy to learn so as an example playing a solitaire card game such as Freecell is easy, using multi point touch (this unit has 10 point available) will take longer to master as the mouse taught us to do a single thing now with the aid of more digits you can do far more and therefore become more productive.
For those who just use a word processor or spreadsheet can see advantages those can be multiplied so for instance zooming in or out of a large spreadsheet with a single action of your hand and making a choice that may have taken multiple actions with a mouse all become easier.
This is a nice clear, sharp easy to use panel, yes of course there is a premium for touch as the components needed to make such a screen are far more complex. Having a choice of connection types means it should be useable from most PC's. There is no reason why you should not enjoy a movie or three with this 23inch screen. If I have a doubt it is about touch being considered a work tool rather than a leisure one.
The Philips Brilliance 231C5 is available from the link below for £381.66 with free delivery.
http://www.transparent-uk.com/philips-231c5tjkfu-00.html http://www.philips.co.uk/c-p/231C5TJKFU_00/brilliance-23-inch-58.4-cm