Gigabyte P25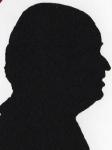 Certainly a unit to be considered as a Desktop replacement, it is large and heavy and for me anyway does not sit comfortably on the lap. It is however very fast and powerful. One feature I have not come across previously a yellow lid.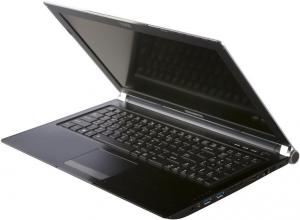 click image to enlarge
The Gigabyte P25 measures 39x26x4.5cm, the last figure at the back which narrows to only 1cm at the front, it weights a mighty 2.74kilos.
The viewable screen is 34x19.5cm and the notional diagonal imperial measurement is 15.4inches, the screen resolution is full HD 1920x1080. The screen goes back 45degrees beyond vertical. There is a built in webcam. The edge of the screen is silvered and the screen surround is grey rather than black and joy or joys has a matt finish.
There is a 103 key keyboard with alpha keys being full size the top row – function keys – are smaller as are the keys of the numeric keypad. A 2cm clear strip runs down either side of the keyboard and there is a 3cm strip behind the keyboard that has some reasonable speakers as well as the silvered on/off button and three silvered bar buttons for volume up/down and a Smart button bringing up the Smart Manager. A 10cm strip is in front of the keyboard has the 9x5.5cm trackpad mounted centrally.
The left side has DC input; VGA output an e-Sata port and a Blu-ray optical drive. The front is clear, while the right side has 3.5mm sockets for microphone and headphones, there are two USB3 ports, SD socket, HDMI out and an Ethernet Port. The rear is also clear apart from two large cowlings for heat dispersal.
It came with Windows 8 but the updates upgraded this to Windows 8.1.
It has 8GB of RAM an Intel Core i7 processor running at 2.4GHz and a 128GB SSD drive, there is 98GB available of which around 30GB is used by system and program files.
Sometimes when a unit arrives it has been through several hands before and so things do not always work as they should. Gigabyte is best known as manufacturers of excellent fast motherboards. While that is also true here in this case I found this unit had two nasty faults, first one of the two USB ports refused to work and second even when off the battery lost 1% per hour. So with that bad news out of the way lets tell you the good news.
It boots in only 8seconds and shuts down in 3seconds. In use the battery lasts just over four hours in heavy use and a full recharge takes only two hours.
Before the upgrade from 8 to 8.1 the Windows Experience score was 7.9 Processor, 7.9 Memory, 4.9 Graphics, 6.9 Gaming Graphics and 8.1 Hard Disc. The Experience score is no longer available in Windows 8.1.
Sadly this is not a Touch unit, I have yet to see anything from Gigabyte with Touch but look forward to doing so. I noted that the keyboard should have been backlit it was not for me. Overall This extremely fast unit was a little disappointing, I would expect much more than four hours of battery life and to lost 1% per hour when off is not acceptable, both these problems are probably linked and not normally problems seen with other Gigabyte units.
The Gigabyte P25 is available from the link below for £1404.56 and this also has a 1GB hard drive as well as the SSD.
http://www.ebay.co.uk/itm/like/380789786057?hlpht=true&ops=true&viphx=1&lpid=95&device=c&adtype=pla&crdt=0&ff3=1&ff11=ICEP3.0.0&ff12=67&ff13=80&ff14=95