Widescreen LCD Display From AOC

If one is upgrading from an older 4 x 3 monitor, or even a smaller wide screen display, it pays to consider the current generation of LED backlit larger screen units which will provide an improved user experience. With its 1920 x 1080 (HD) resolution the 23 inch AOC i2360 fits the bill both in size and performance.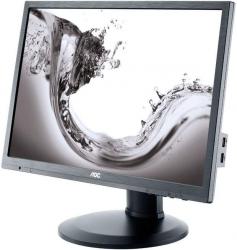 click image to enlarge
This wide screen monitor has been designed with the user in mind. It provides a bright high contrast image which can be viewed comfortably under most lighting conditions. Its fast response, claimed to be 5mS, ensures fast moving images are not blurred. In practice, I found that it gave sharp, crisp images, especially at full resolution, with a good colour rendition together with a wide range of setup adjustments. Hence, it is a quality monitor that is suitable for both business and pleasure.
The i2360 is black in colour with a narrow bezel just 20mm wide and so is not overpowering when sitting on the desk. The spring-loaded counterbalance in the mounting pillar enables the height to be adjusted effortlessly over a range of 12cm from its lowest point of 7.5cm while the viewing angle can be adjusted over the range -5 to +15 degrees from the vertical. It has a wide viewing angle (claimed to be 178 degrees in both horizontal and vertical planes) and can easily be moved on its swivel base – this is ideal when a number of people need to view the screen at the same time.
By the way, there are standard 100mm VESA mounting centres on the rear of the unit.
When raised towards the top of its range, the screen can be rotated from landscape to portrait view – ideal if one is working with a long, but not too wide text document or spread sheet.. This movement makes it easier to access all the connections which are on the underside of the unit. These include the signal input connections -- analogue VGA port as well as digital DVI-D and HDMI – as well as power, audio and two USB. While, in practice, I found that the main power switch (but more of that later) and two USB ports were not easy to reach there are also a further two USB ports conveniently mounted on the side of the bezel.
There is a row of hot keys on the underside of the bezel. The one on the extreme right is the power button. It is slightly apart from the others so one can't hit the wrong button by mistake. The others provide source selection and an alternative to using the iMenu on-screen setup facilities. Overall, there are a wide range of resolution, colour, Eco, image aspect ratio, timeout and image position adjustments that can be made so that it is worthwhile spending some time to understand and the options and get the most appropriate setup.
With a list price £199 but available on Amazon for £154.63 including free delivery this is a good quality versatile monitor which will meet the needs of a serious user.