Gigabyte Notebook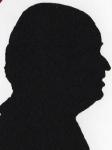 A name I know for powerful PCs, here a notebook running Windows 8, it does however not have 'touch'. So is it a desirable thing to have a fast powerful notebook that runs an operating system that uses a front end that restricts it?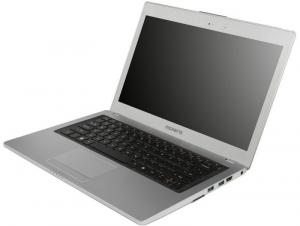 click image to enlarge
This Gigabyte Notebook measures 33x27x1.5cm and weighs 1.7kilos. The viewable screen is 31x17.5cm which gives the notional diagonal imperial measurement of 14inches. The screen display is 1600x900.
The lid has a brownish tinge while everything else is silver grey including – hurrah – the screen surround so those fingermarks do not show. In the top of the screen surround is the 1.3MP webcam.
To say I was less than impressed with the initial booting and shutdown times is an understatement, then it popped up a screen offering fast boot and after that things flew.
The left side of the case has Ethernet, VGA, two USB2 ports, microphone and headphone sockets and a Kensington Lock port. The front has only five pin hole LEDs that leach through from the top. The right side has SD card socket, two USB 3 ports, HDMI out and DC input. The back is clear and just has fan outlets as the lid partially goes over it.
There is an 81 key keyboard, the two centimetre band behind it has the speakers and two small buttons to the left that includes the on/off. There is 2.5cm either side of the keyboard clear and 10cm in front of the keyboard with the 9.5x6.5cm trackpad mounted 10.5cm from the left and 13.5cm from the right.
It has an Intel i5 processor running at 2.5GHz, 8GB of RAM, it has a 120GB SSD and a 700GB Hard Disc which combine to give the XX second boot and X second shutdown time.
It has an NVidia GForce M640N graphics chip.
Unlike the few other Windows 8 machines I have seen this allows one click connection to Control Panel as well as other touches to let you get below the skin of Windows 8.
The one point I cannot get over is that this unit has no touch on the screen and surely if you are going to use Windows 8 you must have touch otherwise the front end is too slow to show the advantages of such a rapid machine.
Looking at the Gigabyte website I see they do a touch model and that surely will tick the boxes this does not.
I also see from the press release that I was sent that Windows 7 is still an option. So either Windows 7 without touch or Windows 8 with touch. Still I was sent the offering that has its hands tied behind its back with Windows 8 and no touch.
Once you get into using whatever programs you use then you see the blistering pace available and this 'wolf' slips out of its sheep's clothing.
The speakers give a rather good sound for a notebook, probably helped by the fact that the screen only goes to around 140 degrees helping to make sure the output goes forward rather than disappearing behind the unit.
The screen display is sharp and clear and for a notebook readable at quite a wide angle which in certain cases could be a drawback.
Having two USB3 connections is a plus with so many units only providing one such port. It's also good having USB2 on one side and USB3 on the other so less chance of plugging into the wrong port by mistake.
8GB of memory for a small notebook is good; according to the specifications it can be extended to 16GB should you need it.
I was able to view movies full screen without any problems and I am sure that the 2GB NVIDIA graphics chip is the reason.
I see that this has several versions of OS available and I would certainly specify Windows 7 rather than Windows 8 as Windows 8 with its front end tends to restrict immediate action, extra icons not found on other units I have seen seem to point to Gigabyte trying to give it a bit more of a Windows 7 feel.
The Gigabyte U2442N is available from the link below for £1095.16 with free delivery.
http://www.amazon.co.uk/gp/product/B008ONF2T4?ie=UTF8&tag=gadge0a-21&linkCode=as2&camp=1634