Asus VivoBook S200E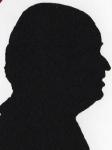 Finally months after its release I receive a small touch notebook designed for Windows 8. While the 11inch screen may be a little small for some the touch features work well as you will naturally sit with the screen well within reach.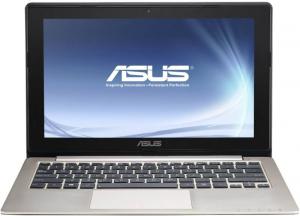 click image to enlarge
It is 30x20x1.5cm, it weights 1416grams. The 1.5cm thickness is maximum as at the front and back it is only 1cm thick.
The viewable screen is 26x14.5cm giving the notional diagonal imperial measurement of 11.6inches but it is shiny, so shiny that you could shave in it when off and so in bright daylight you will struggle to use it effectively. The screen shows 1366x768 pixels.
There is an 82 key keyboard, the alpha and numeric keys are full width but only 1.2cm deep but the spacing is ok meaning you should be able to touch type. Other keys are rather small but these are still useable and all have positive movement.
There is a two centimetre strip behind the keyboard which just has the on switch towards the right edge. The 10.5x6cm trackpad is 9cm from the left and 11cm from the right. There are five pin hole LEDs towards the front right edge.
The external connections are DC input, Ethernet, HDMI, USB3, USB2 and Kensington loxck port on the left and VGA, USB2, headphones and SD Card slot on the right. Nothing on the front or back the latter as the screen edge goes over it.
It has an Intel i3 processor running at 1.8GHz. I assume the drive is 500GB as mine read 186GB on 'C' and 219GB on 'D', it was a Hitachi unit. It has 4GB RAM. It runs Windows 8 in 64bit mode.
In heavy use with lots of downloads of updates and installs and the screen kept up I got 222minutes before it forced shutdown with 4% left. A full recharge while off took 105 minutes. Booting took 20 seconds and shutdown 7seconds.
It looks like an Ultrabook but it's a little thick and of course no SSD. However on the plus side it's not an Ultrabook price.
However it feels very solid and I suspect it would stand the odd knock it might get while you are travelling around.
As regular readers will know I converted one of my Windows 7 notebooks to Windows 8 soon after the launch but the one feature – the main one Windows 8 was designed for – touch was not available and here of course it is. It takes a while to make yourself use touch at every opportunity, where it certainly wins in on screen reduction and enlargement when viewing web pages it is very rapid and useful for those of us with less than perfect sight.
All the Windows 8 touch and swipe motions are supported including the ones using extra digits to complete all with a very light touch, the added weight of the base is useful for those who tend to be heavy fingered as it stays firm.
There are some extra Asus Apps and games as well as a month's trial of Office 365 with no credit card required to install.
Anyone needing a PC rather than an Android or Apple device but also need to use it out and about should consider this; in lighter use I got five hours of battery life which should probably be enough for most to call it a day's use.
The Asus Vivo Book S200E is available from the link below for £379.99 and this is delivered free. http://www.amazon.co.uk/gp/product/B009YUF4ZS?ie=UTF8&tag=gadge0a-21&linkCode=as2&camp=1634