Samsung 10.1inch (Galaxy Tab2)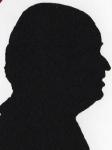 This is a 10inch Android Tablet with a few extras that are unique to Samsung. A lot has been written about a device made by Apple and the apparent similarities this bears to it, as I have no close knowledge of the former I cannot comment.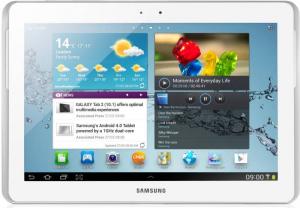 click image to enlarge
The Samsung Galaxy Tab 2 measures 25.5x17.5x1cm and weights 583 grammes. My unit was white. The viewable screen is 22x13.5cm giving the imperial diagonal measurement of 10.1inches. The screen display is 1200x800 which with excellent zoom in and out gives a screen nearly the size of a PC or a notebook and of course good battery life and lack of weight.
The unit comes with a proprietary lead to charge it and this can either go to a USB port or to the supplied plug to charge from the mains.
Holding the unit in landscape format all the buttons and connections are on the top, on/off, volume up/down, covered micro SD slot and 3.5mm jack for earbuds. The speakers are either side build into the screen surround.
There are two cameras a front facing unit for things like Skype with VGA resolution and a rear facing offering of 3MP to take you images and movies. One point to note that there is no LED flash to help after dark. It can capture full HD video and while on the subject it can also record audio to a good standard for a pin hole microphone.
While I am one of the few people who turn the device on and off the bootup time is 35seconds and shutdown is 9seconds.
When looking at the various devices please be aware that Samsung do a Galaxy Note and a Galaxy Tab so check on specs.
The capacitate multi touch screen is responsive and should avoid any eye strain when you view pages designed for PCs certainly there is no need to look for mobile versions and the Wi-Fi worked without problem.
The dual core 1GHz from Texas Instruments handled multiple Apps without problems. Built in storage is 16GB but the micro SD card slot means this could be increased to 48GB with the insertion of a 32GB micro SD card. It has 1GB of RAM.
The operating system is Android 4.04 (Ice Cream Sandwich). In heavy use (Wi-Fi and Bluetooth) the 7000mAh battery lasted around nine hours. In more normal use a couple of days between charges should easily be achieved.
A regular moan of mine is about fingermarks on the screen and here is no exception, I suggest keeping a suitable cloth with it but to be fair you notice it more when the screen is blank as it then almost becomes a mirror.
I tend to turn off auto screen rotation as my viewing angle tends to get it to turn just when I do not want it to but it's a simple thing to activate from the setting screen. Thinking about this unit after a couple of weeks of use if the screen rotation and the fingermarks showing up are the only gripes I have it can't be a half bad device.
Yes there are cheaper units out there some even have later versions of Android, however the build quality and feel of the device are good and the continual fighting between Apple and Samsung must mean that apple are worried.
The Samsung Galaxy Tab 2 (10.1 inch) is available from the link below for £268.80 with free delivery.
http://www.amazon.co.uk/gp/product/B0080OT6XU?ie=UTF8&tag=gadge0a-21&linkCode=as2&camp=1634
http://www.samsung.com/uk/consumer/mobile-devices/tablets/tablets/GT-P5110TSABTU