Samsung Notebook NP900X4C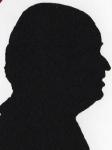 This is a thin and light notebook – claimed as the thinnest – but as soon as you boot it up you notice it is also very fast so without looking you know that a ten second boot and seven second shutdown means it has an SSD drive.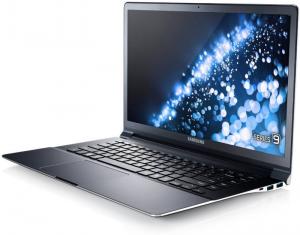 click image to enlargeThe Samsung Series 9 NP900X4C measures 35.5x23x1cm maximum and weights 1665grams. The screens diagonal imperial measurement is 15inches. The viewable screen is 34x19cm with a near invisible webcam mounted in the centre of the screen top. It is capable of displaying up to 1280x1024.
Before I tell you about the connections I must say this is the first unit that I have charged and then got eight hours of heavy and medium use without having to connect it to the mains to restore a violently screaming unit to life.
The left side has the DC input, a USB2 port, headset port, micro HDMI, micro Ethernet (lead supplied) and microphone ports. The front is clear as is the back as the lid goes over it. The right side has micro HDMI socket and two USB3 ports. Finally there is an SD card port more on the base than the side with a push open door to allow access.
As you will note there is no optical drive but during my tests I connected an external USB drive to install an application without problem.
So its fast and light and easily has eight hours of Wireless use, in fact the actual figure I got was eights hours and 13 minutes. From this point with 4% left I connected power and switched off and then three hours and 45 minutes later it was fully charged and ready for another full day of use without any mains power connection.
It has an 87key keyboard, all alpha and numeric keys are full size and they are even backlit great for those who are not total touch typists. There is a two centimetre strip behind the keyboard with the on/off button towards the right.
In front of the keyboard is a ten centimetre strip. The 10.5x8cm trackpad is 10cm from the left and 14.5cm from the right.
My unit came with Windows 7 Home Premium 64bit version, 8GB RAM and an Intel Core i5 processor running at 1.7GHz.
The hard disc is made by SanDisc and is a 128GB offering. However the viewable capacity is only 87.2GB.
Installed software includes Microsoft Office Starter (Word and Excel), Absolute Data Protect, CyberLink You Cam, some extra games above those supplied with the operating system, the normal 60 day trials of Norton Internet Security and Norton Backup and finally thirteen more games all with under the Wild Tangent banner.
While most Windows 7 machines will do updates on shutdown then complete them in either one of two steps on next startup with all the 70 plus updates I did during my review period (in four batches) each restart was immediate.
Apart from looking at most of the installed software – with the exception of the majority of the games – I also took the chance to install an Epson All In One unit – review to follow – and that worked exactly as it should using Wi-Fi from all rooms, Epson also have an eMail print system and this also worked either direct from remote places or if the unit was switched off while out once I reconnected with confirmation emails received.
The Samsung NP900X4C is available from the link below for £1036.32 with free delivery.
http://www.amazon.co.uk/gp/product/B00862I4XY?ie=UTF8&tag=gadge0a-21&linkCode=as2&camp=1634
http://www.samsung.com/uk/consumer/pc-peripherals/notebook-computers/ultra-portable/NP900X4C-A02UK