Prestigo MultiPad 9.7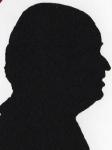 The Prestigo MultiPad is a 9.7inch Android device with things provided as standard that a lot of other manufacturers say are extras. However this is somewhat of a 'curates egg' device as it has faults to go along with the rather nice bits.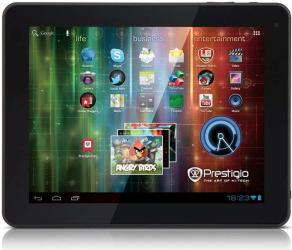 click image to enlarge
Let's deal with the nice bits, it comes with the micro USB to USB lead that enables you to plug in any USB stick to allow reading of the files from it these can be data, images, music or even video all play without any problem.
It has a nice slip case that means you can protect the screen from any scratches that may occur when you are moving around. It also comes with a whole range of books to use with the device as a book reader in multiple languages.
Now some of the less brilliant features. Booting is only a tad under a minute and sometimes for no reason the reactions of the unit are slow and some of the Apps are limited use or trials a nasty habit that stems from PC's.
The Prestigo MultiPad measures 24x18.5x1cm and weights 600 grams (without case). Assuming you hold it in portrait mode all the controls are on the top edge with connections down the right edge. On the top right side are a Home key and Volume up and down rocker. The only button on the right edge is on/off. Going from the top are earbud socket, Micro USB for external keyboard or mouse (unusual), Micro SD Slot, Micro USB to connect Micro USB to USB lead provided, Mini HDMI out and finally DC input. With the exception of the second micro USB all are fairly standard.
The viewable screen is 19.6x14.7cm giving the notional diagonal imperial measurement of 9.7 inches for the display.
It has 1GB of internal memory and runs Android 4.0.3 running on a 1GHz ARM A8 processor. The unit has 16GB of flash memory that can be extended using SD or USB storage.
As with most devices today there is a thicker booklet to cover 'legal and safety' and another for 'warranty' while four pages of a 12.5x10cm book are in English as a 'Quick Guide'. But this booklet does have useful information.
Having reviewed a number of Android Tablets I think the near one minute boot is the longest I have used, I am well aware that lots of people do not shut a device down and merely use standby or equivalent on most occasions.
Playing audio was better than with a lot of such devices and although volume levels were not high they were adequate in a quiet room.
Video was perhaps the star not only from internal flash memory and micro SD Card but also from USB Stick using the supplied lead, no noticeable frame drop and no sound degradation even when playing HD movies from the latter.
However I cannot understand why the apparent non responsiveness on tapping certain Apps occurs it is not consistent and therefore perhaps more worrying. It is the only Android device where I have had 'this is not responding' message that I am sure all of us with various Windows systems will be more than familiar with seeing.
So 'Curate Egg' seems the best description it will get everything done, but not always at the first attempt and while the case and micro USB to USB lead are nice both can be purchased for a few pounds for both.
The Prestigo Multi Pad is available from the link below for £199.99 with free delivery.
http://www.amazon.co.uk/gp/product/B009AUZMN6?ie=UTF8&tag=gadge0a-21&linkCode=as2&camp=1634