External Hard Discs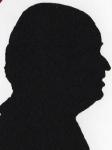 Here I have two external USB drives, the first from Freecom is large at 2GB and the second is 500GB but they do make a 1GB version, the first is intended for PC use while the second is made for use in the Apple market.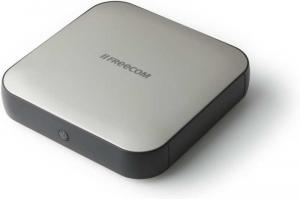 click image to enlarge
Often external drives – the standard figure is more than 500GB – need additional power other than that supplied down the USB lead. One solution is to have a 'y' connection which means you take two USB ports, another solution is lose some of the portability by having a mains (DC adapter) and lead which ties ones to where there is power.
Freecom Desktop Hard Drive
This uses the second solution above party because of the fact it is 2TB in size. It is a USB3 unit – faster transfer – but it is also capable of working with USB2 and indeed I also tested it on a Windows XP system with USB1.1.
It is 16x20x3cm, the middle figure is with both power lead and USB lead connected adding 4cm to it, the weight is just over 1700grams with both the USB and power adapter attached. It is solid as the case is made of aluminium.
The front has a single LED in a push button to slow on/off. The rear has the two connections for power and USB. The USB3 lead is .6metres long and the power lead ending in small power brick in the 13amp plug is 1.2metres.
It is a 3.5inch SATA unit with a maximum transfer speed of 5000Mbit/s for USB3 and 480Mbit/s for USB2 and around 1/3 of that for USB1.1. The 2TB size is the maximum possible for an XP system to be able to read.
This unit worked from the box, plug in the leads, Windows installs drivers and you are immediately able to copy files to it. The one drawback it that it requires mains power so it is tied to places where power is available. Today 2TB does not sound large but my memories go back to units that did not have hard discs at all and then 5 to 10MB (yes MB not GB) were large so not is 2TB large but these drives are also extremely robust. I see they are also made in 1TB and 3TB sizes.
The Freecom Desktop Hard Drive is available from the link below for £101.01 including delivery.
http://www.amazon.co.uk/gp/product/B007OTKA8M?ie=UTF8&tag=gadge0a-21&linkCode=as2&camp=1634
http://www.freecom.co.uk/Products/External-Hard-Drives/Desktop-Hard-Drives/Hard-Drive-Sq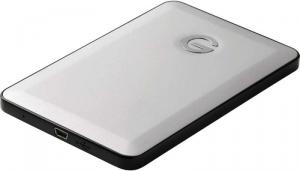 click image to enlarge
G Drive mobile USB
This is the other type of drive and the one I was sent was 500GB and draws all its power from the single USB3 lead.
It 8x16x1cm, the second figure would be 3.5cm less with the USB3 lead plugged in. It weights 187grams, the case is aluminium.
This drive was intended for use on a MAC so when you plugged it in Windows found new hardware etc but will not display a drive letter so you need to go to Computer Management and reformat the 465GB drive to NTFS.
After that it works correctly. Like the unit above it is USB3 but works with both USB2 and USB1.1 ports at lesser transfer speeds.
500GB as mentioned above seems to be the maximum size that works without additional power other than that in the USB lead.
The G Drive mobile USB is available from the link below for £85.76 including delivery.
http://www.amazon.co.uk/gp/product/B004X9B42M?ie=UTF8&tag=gadge0a-21&linkCode=as2&camp=1634