JoyTab 9.7inch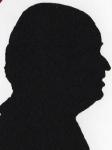 Review controls
This is the larger sibling to the offering reviewed on the 13th August, that was 8inches this that bit larger at 9.7inches. So apart from the larger screen what else has this to offer both are running the latest version of Android.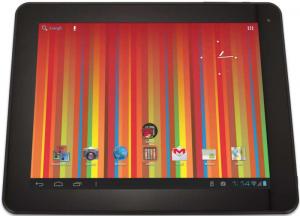 click image to enlarge
While it has a perfectly good on screen keyboard it comes with a 24.5x18.5x1cm external keyboard that is made especially for the JoyTab. It is Bluetooth but is can support the Tablet so it becomes more like a notebook. Also supplied is a mini USB to USB adapter that allows you to attach a standard USB stick to the unit. This has the advantage of quick transfer to a PC as well as the advantage of large storage ability at a cheaper price.
It is 24x18.5x1cm and weights 600grams (without external keyboard). It runs Android 4.0.3 (Ice Cream Sandwich). It has by default five screens and you are on the centre one once you switch on, so two to left and two to right.
Most will leave it on and just with screen blanked but to boot up takes 40 seconds and to shut down around 10 seconds.
The back has a 2MP camera centred on top (when in landscape mode) along with two small speakers at each side of the top. All the controls - other than the touchscreen – are on the left edge. On/Off, Volume up, Volume down, Reset pin hole, DC in, Mini (yes I mean mini) USB, mini HDMI, micro SD card slot and pin hole microphone. For those hooked on Skype or other such services the front has a standard VGA camera as well.
The screen is 9.7inches imperial diagonal measurement and the display is 1024x768. It has a 1GHz processor with 1GB of RAM. Remember however that cheaper USB sticks can be used to increase storage as the adapter is supplied. You also have a micro SD card slot that supports up to 16GB so plenty of storage is available. The 20 page Tablet User Guide calls it a 10inch Tablet so that may be a translation problem, but does cover most things you will want to know.
The only way to charge the unit is via the supplied charger, strange that USB cannot be used as this means the charger is another item of kit to carry with you when out and about for longer than the battery can give for a single charge.
Apart from the standard Android 'apps' there is a rather good Video player with 1080P support and a reasonable book reader. I found that with Wireless left on and high screen brightness I got almost three hours watching videos.
If you turn Wireless off (apart from when needed) and turn the screen down I would think that four hours using video should be possible. For general use I suspect a full working day is possible and for a sub £200 device that is quite good.
I did however find the recharge time was longer than expected at just over five hours from a fully depleted battery.
The unit has a solid feel and while most of my use was on Wireless around the house I liked the unit and its smooth lines, the screen was vibrant and while I do not think that many will use this as a notebook replacement the inclusion of things like the keyboard mini USB to USB cable and indeed mini HDMI to HDMI cable mean that items often sold as extras are included in the basic price so this could well be worth considering.
Like most things today it is made in China but support repairs for parts and repairs are available in the UK.
I found the Gemini JoyTab 9.7 for £179.99 with free delivery.
http://www.amazon.co.uk/gp/product/B007FBFXA4?ie=UTF8&tag=gadge0a-21&linkCode=as2&camp=1634